BEFORE YOU GO...
Check how Shufti Pro can verify your customers within seconds
Request Demo
No thanks
Throughout the United States, an emerging scam has taken the nation by storm. Unemployment Insurance Fraud, also commonly known as Unemployment Benefits Fraud, has been making headlines for months. Scammers are threatening the well-being of not just employers, but countless citizens as well by filing for fraudulent insurance claims. By exploiting overwhelmed governmental departments responsible for providing relief during the COVID-19 crisis, threat actors are determined to gain illegal monetary benefits. This fraud has reinforced the importance of employing robust identity verification systems, as confidential information in the wrong hands leads to disastrous consequences. 
What is an Unemployment Insurance Scam?
When a claimant intentionally submits false information, continues to collect benefits knowing that they are ineligible, or deliberately hides their income or wage to collect full benefits.
The majority of unemployment insurance crimes occur during the application stage, where claimants misrepresent their income, health records, or other personal information to gain access to cheaper insurance premiums. Identity theft was found to be the enabling crime that led to the rise of unemployment insurance fraud in the U.S. 
How Major is this Crisis?
Amid the COVID-19 pandemic, cases of identity theft soared to new highs. According to the Federal Trade Commission, complaints related to identity theft more than doubled between 2019 and 2020, reaching a value of 1.38 million. This tally also includes complaints made related to identity theft that caused unemployment insurance fraud. 
What makes the situation more alarming is that numerous state-owned agencies, that were already understaffed or functioning with outdated technology and fraud prevention tools, were not prepared for this onslaught. The resulting chaos has caused companies to become overwhelmed with complaints, fines, and lawsuits. 
To put things into further perspective, the state of Washington generally receives a few dozen fraudulent unemployment claims in a year. In March 2020, however, the state identified 122,000 claims from imposters. 
The Latest Updates on Unemployment Insurance Scams
The

Wisconsin Department of Workforce Development

(DWD) issued a warning for U.S. citizens about a substantial increase in fraudulent unemployment insurance claims in March 2021. According to the DWD, the crime was being facilitated by a phishing attack originating from a fake account by the name "Wisconsin Department of Workforce."

The

Labor Department of Vermont

disabled its online portal for unemployment insurance application in May 2021, after 90% of the initial claims had to be flagged due to fraudulent activity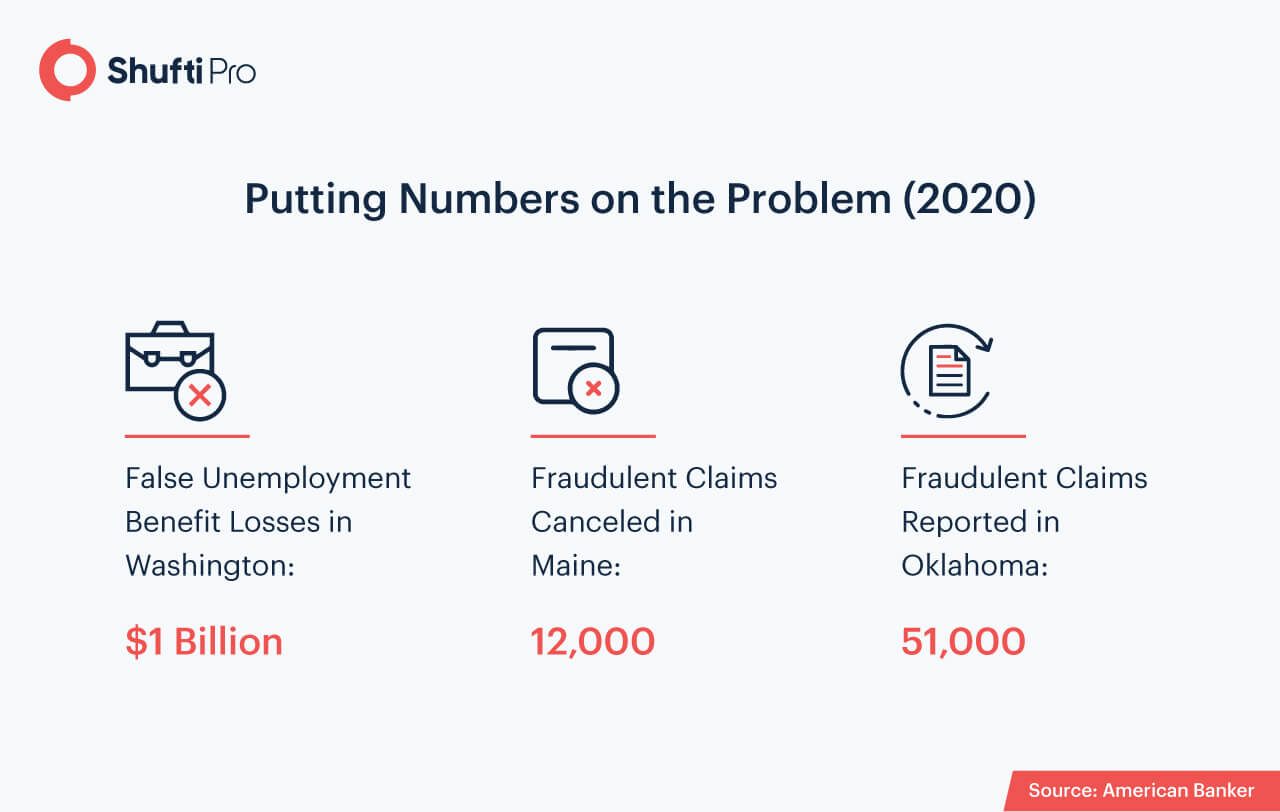 Scammers Use Mule Networks 
Money earned through an unemployment insurance fraud scheme rarely flows directly to the perpetrator. Instead, fraudsters move the money through online accounts using individuals that have a legitimate U.S. bank account. This not only allows the scammer to conceal their identity but also makes it difficult for regulatory authorities to detect fraud and recoup the funds. 
Additionally, digital wallets, mobile banking, and other money transfer apps have opened the gateway to new avenues for moving illegal funds around. These channels allow users to access accounts without appearing in person. As a result, the scammer successfully avoids cameras at ATMs, bypasses manual security checks, and commits the crime by concealing their true identity. 
What is the Penalty For Unemployment Insurance Fraud?
According to the U.S. unemployment insurance law, the following penalties are charged on fraudulent claimants:
Criminal prosecution, with fines and/or imprisonment

Mandatory repayment of fraudulently collected insurance benefits

Confiscation of future income tax refunds (rebates) 

Permanent loss of eligibility for unemployment insurance benefits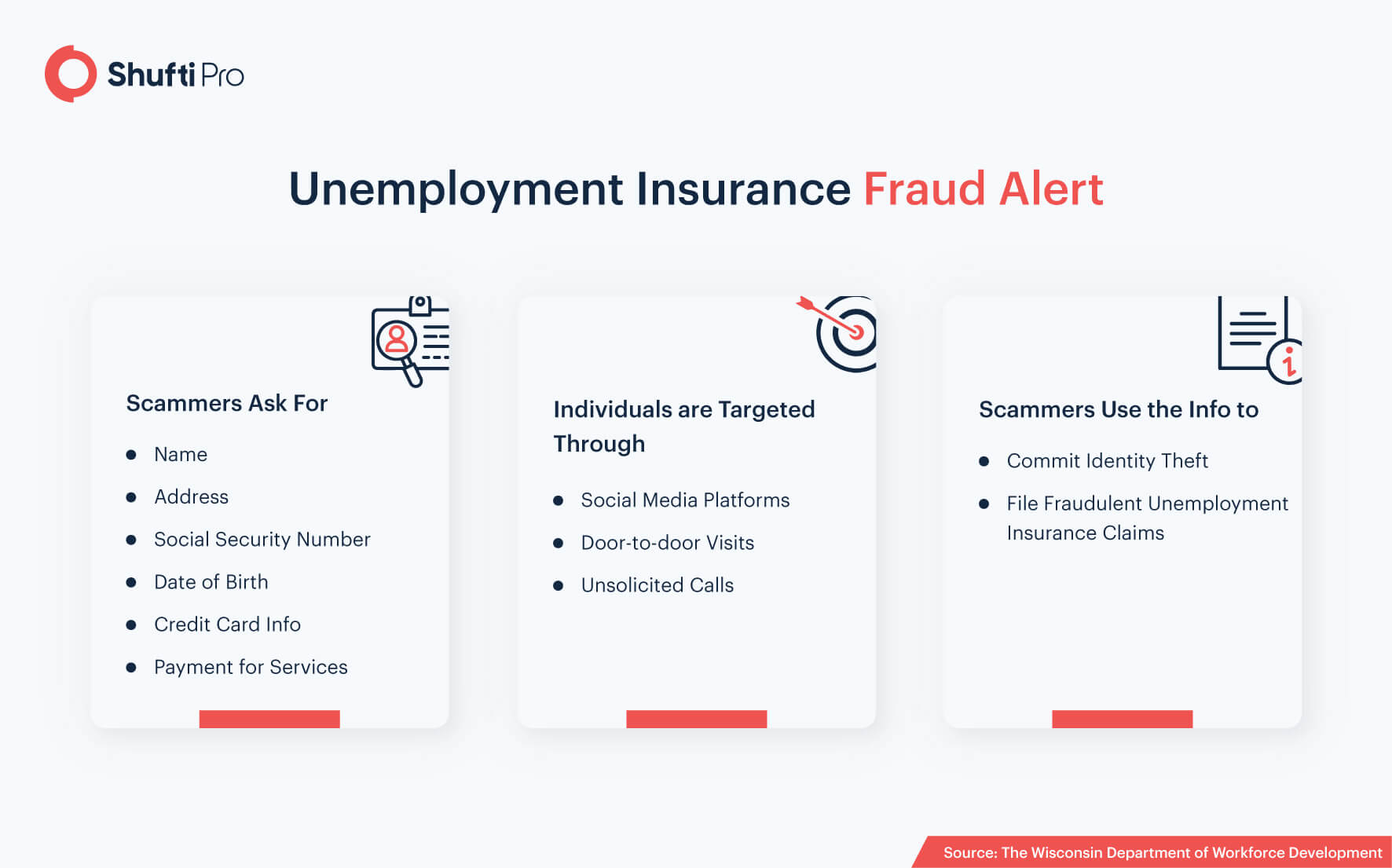 Implementing a Solution
To file for false unemployment insurance claims, criminals use one of two techniques:
Take over existing identities 

Fabricate new identities using stolen identity details
Worryingly, identity theft is just the beginning. Once fraudsters have successfully created an account using the stolen personal information, other forms of fraud quickly follow. This shows that by utilizing robust identity proofing mechanisms during the initial onboarding stage, government agencies and insurance companies can easily detect fraudulent players and suspicious identity details.
Digital identity verification leverages state-of-the-art technology and artificial intelligence models to carry out multiple identity checks. By integrating an identity verification software, identity thieves along with false insurance claims can be effectively identified. Here's how it works. 
The claimant fills out a form and provides their personally identifiable information for identity verification

They are then asked to present themselves online to provide proof of identity, using valid ID documents

The AI-powered identity verification software verifies the documents and checks for any signs of tampering or forgery. The image on the ID document is also matched against the face of the claimant to ensure they are who they claim to be

If the verification process is successful, they can proceed to avail the benefits within seconds
The Added Value of Identity Verification
By utilizing the services of an IDV service provider, organizations can minimize the surging threat of unemployment insurance fraud and keep threat actors at bay. During the initial identity verification process, the claimant is verified by authenticating not just official ID documents but also by collecting biometric data. Since biometric data is virtually impossible to replicate, it serves as a better defense mechanism. This way, even if a fraudster is filing for a fraudulent claim through an online channel, their identity can be identified and reported to authorities. 
Key Takeaways
Unemployment insurance fraud has been on the rise in the U.S.

Identity theft was found to be a contributing factor to the rise

Governmental agencies are overwhelmed with fraudulent claims 

Identity verification solutions have the ability to authenticate claimants during the application stage, filter out fraudsters, and can potentially minimize this ongoing threat