BEFORE YOU GO...
Check how Shufti Pro can verify your customers within seconds
Request Demo
No thanks
Did you know identity fraud is growing at a faster than ever rate? Businesses across the globe are investing heavily in fraud prevention and identity verification systems. Consumers, due to the pandemic, have rapidly shifted to digital means of literally everything. That being said, customers simultaneously demand data protection, privacy, and top-notch experience. Furthermore, the evolving regulatory landscape is making it difficult for businesses to ensure compliance and highly accurate identity verification results. In 2022, every business in all regions of the world will be liable to perform identity verification during customer onboarding. The blog discusses top 10 identity verification trends that every business must look out for in 2022. 
Rapid IDV Adoption in the Crypto Industry 
The crypto market hit USD 2 trillion in 2021 and mass audiences are adopting virtual assets worldwide. However, this is opening gates for identity theft, money laundering, terror financing, etc. Henceforth, regulatory bodies are now enforcing Know Your Customer (KYC) and Anti-Money Laundering (AML) laws on the industry to combat financial crimes. 
Recently, the Financial Conduct Authority (FCA) has spent USD 650k to beef up its AML controls in the crypto industry. On the other hand, the Reserve Bank of India (RBI) has stepped forward to strengthen KYC guidelines for cryptocurrency exchanges in the country. In 2022, we can expect more rigid identity verification regulations from other watchdogs as an attempt to curb frauds in the virtual asset sector. 
Suggested Read: RBI to Strengthen KYC Guidelines for the Crypto Industry 
NFTs will Require Robust ID Verification 
Non-Fungible Tokens (NFTs) have gained popularity this year and in 2022, analysts are predicting a more rapid adoption of NFTs. But this massive adoption came at a price. Fraudsters have figured out numerous ways for their illegal activities. Non fungible tokens are anonymous and have no or weak regulations to prevent bad actors. Ultimately, perpetrators are banking on the loopholes to launder money and steal identities for other criminal activities. 
Earlier this year, a renowned artist, Derek Laufman received emails and messages about NFTs for his work. The surprising point is, he never issued an NFT for any of his art pieces. Someone misused his identity (this first reported identity theft case in the NFT marketplace). For next year, the NFT marketplaces must be prepared to face new regulations demanding identity verification. 
Recommended: Here's to 2021 – NFTs Conquering the Crypto Market 
CBDCs to Demand ID Verification  
Central Bank Digital Currencies (CBDCs) gained popularity in 2020 and 2021 was all about regulating the new currency form. Unfortunately, the first ever case of money laundering was also reported this year. 11 suspects were arrested for laundering money through digital Yuan. The crime was committed through a telecommunication company in Xinmi City. While CBDCs are set to become the new mode of payment, every country that is introducing digital currency has to ensure CDD compliance. 
Suggested Read: Digital Currency – Replacing Fiat Money in the Modern World 
Real Estate Calling for Rigid IDV System
Thanks to regulatory loopholes in the real estate sector, financial criminals have been turning their black money to white in this industry. Recent reports from Canadian and Australian watchdogs, frauds in the real estate sector are on the rise. Now, stringent regulations for identity verification and background screening will be mandatory for brokers. 
A study by Transparency International Canada (TIC) revealed that approximately USD 30 billion is laundered through the Canadian real estate sector. In 2022, the real estate sector will call for a robust identity verification framework to steer clear of fraudsters.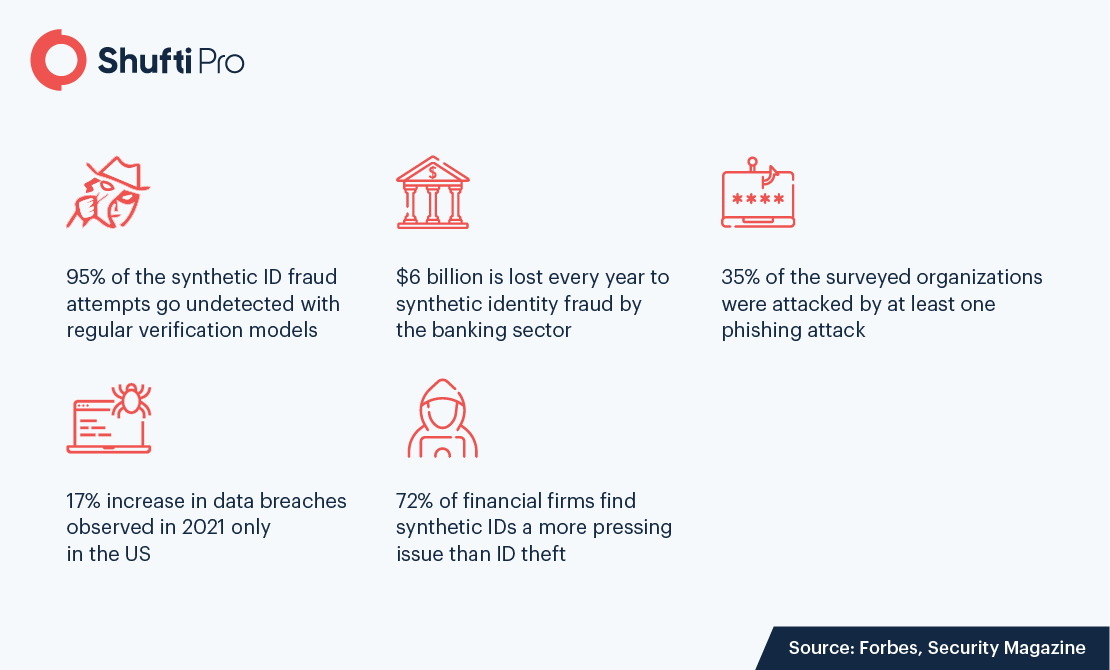 More Fintechs, More ID frauds
The pandemic-driven digitization has resulted in more opportunities in the fintech sector. Unfortunately, the threat for criminal activities is rapidly increasing; therefore, the fintech sector is in dire need for a robust identity verification mechanism that can ensure seamless account opening for legitimate individuals only.  
Recommended: Top 10 FinTech Trends to Watch for in 2022 
Massive Data Breaches Increase the Risk of ID Fraud
The year 2021 had the highest number of data breaches which means businesses must steer clear of frauds in 2022. The compromised data will be used for identity theft, account takeover fraud, new account fraud, synthetic identity theft, etc. making it challenging for organizations to prevent criminal activities. 
Synthetic IDs to Pose Higher Risk in 2022
Synthetic identities are a combination of fake and real information making it convenient for perpetrators to use such IDs to dodge vulnerable identity screening solutions. With massive loss of information to data breaches in 2021, we are expecting a higher risk of synthetic identity fraud in 2022. 
Travel Sector to be More Vigilant for IDV
New travel rules for Covid-free passenger onboarding demand a solution that can ensure effortless passenger onboarding. That being said, the travel and hospitality sector requires an ID verification solution that can not only verify identities but also ensure authenticity of vaccine passports. 
Ongoing KYC to Gain Hype
Verifying identities during account opening is one step to fighting fraud. To stay ahead of fraudsters, it is important to keep an eye on clients' activities. Employing ongoing KYC lets businesses maintain updated customer risk profiles. Various cases of frauds emerged this year where old accounts were used by money mules to launder money. Also known as perpetual KYC, ongoing identity verification will gain popularity in 2022. 
ID Verification to Go Touchless in 2022
Considering the new touchless requirements due to the pandemic, identity verification will also take the contactless road. NFC-based identity verification will be the new trend for verifying traveler identity. NFC Verification just requires a tap of the biometric identity document with an NFC-enabled device.
Key Takeaways 
Given the current scenarios, identity verification is not going anywhere. From real estate to fintech to the travel sector, every sector across the globe will be seeking more reliable and accurate identity verification protocols. Moreover, the KYC/AML compliance landscape is breaking new grounds, so businesses have to incorporate a strong framework for effective compliance. On the contrary, identity frauds will take new forms and the threat of synthetic IDs will increase, especially after the numerous data breaches in 2021. With a reliable, fast, accurate, and AI-backed identity verification solution, businesses can comply with the changing regulations and prevent identity fraud. 
Ready to fight identity fraud with Shufti Pro's KYC solution? Start with our 7-day free trial.