BEFORE YOU GO...
Check how Shufti Pro can verify your customers within seconds
Request Demo
No thanks
Cryptocurrency is in the limelight since the advent of Bitcoin in 2009. Investors like Tesla Inc. are constantly driving the virtual currency to new heights after it announced a purchase of $1.5 billion worth of crypto coins last month. Many people are tapping into the market because of Bitcoin's ability to generate a greater return on investments. While it is turning heads everywhere, new restrictions to regulate the use of digital assets remains a trending topic. The idea behind the new restrictions is to prevent money laundering and other related cybercrime through cryptocurrency.      
Why is Cryptocurrency so Popular?
In the current COVID-struck era, cashless payments have become inevitable which makes virtual currencies even more popular. In 2017, the crypto market saw substantial growth when the price of bitcoin capped a staggering $19,000. The reason behind this enormous increase is it's constantly increasing popularity among consumers and companies alike. 
Cryptocurrency is extremely volatile because investors are always speculating stock values. This makes popular currencies like bitcoin grow substantially as investors bet the price of virtual assets, resulting in a surge or potential downfall. By the end of May 2020, the total revenue generated by the market was almost $265.545 billion. Today, there exist 2000+ types of cryptocurrencies with more being developed each day. 
Bitcoin Soars Sky-high after Tesla Investment
Recently, the electric cars manufacturing company, Tesla, invested a good sum in Bitcoin assets. The virtual currency's value grew up to $48,000 after it increased at a steady rate of 7.9%. In a statement, Tesla also announced to accept Bitcoin payments for purchasing their cars, empowering the virtual currency to a great extent. Since bitcoin is quite volatile in nature, it still remains a challenge for people to think about its short-term value to greater investment. 
Regulatory Changes in Crypto
The cryptocurrency, because of its anonymous nature, is a channel for money launderers to carry out their illicit motives. Due to the same reason, financial authorities around the globe are concerned about regulating the services offered by Virtual Asset Service Providers (VASPs). Although FATF's Travel Rule and the 5AMLD by the European Union list guidelines on moderating digital currencies, countries need to come with their own laws to ensure transparency in virtual asset exchanges.    
The Digital Currency Bill 2021
The Indian government will introduce a bill to regulate the use of cryptocurrency and other digital assets in its ongoing budget session this year. The bill aims at restricting the use of all privately owned virtual currency assets issued by third-party service providers. This step is taken to address the inadequacy in maintaining assets of customers and providing them with the level of transparency they need. 
However, to fill the gap, India is introducing its own central bank digital assets so that the market for digital assets doesn't eventually die. This will allow the state government to keep a check on digital currencies and their cash flow to prevent money laundering.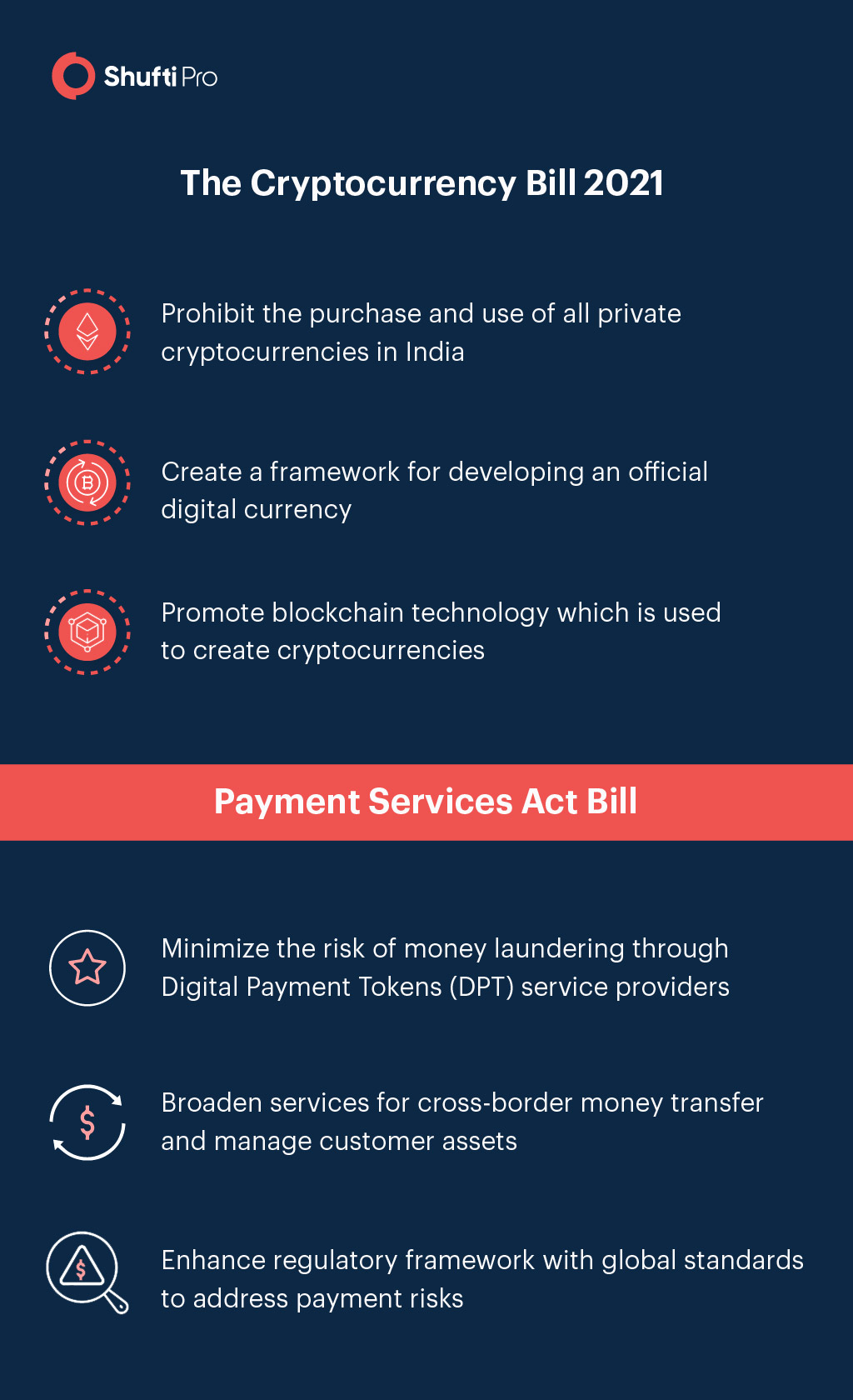 Singapore's Bill on Cryptocurrency 
The government of Singapore has introduced an update on its Payment Services Act which came out in 2020. The new changes suggest that organizations and service providers of cryptocurrencies would have to acquire a licence to carry out their operations. The set of expanded rules by the Monetary Authority of Singapore (MAS) is applicable to virtual payment providers operating within the state or from other countries. 
The bill aims at protecting service providers of Digital Payment Tokens (DPTs) who are exploited by money launderers to hide their funds.

The Monetary Authority of Singapore can now regulate entities and service providers offering cryptocurrency exchanges.
What's the Future of Virtual Currency?
Cryptocurrency's ability to drive investor's appetite will continue to expand as long as it keeps offering exponential returns. After Elon Musk approved the Bitcoin for purchasing Tesla, its value grew multi-fold. The volatility offered by Bitcoin and other virtual currencies creates a sense of excitement and threat at the same time.
Fraudsters use crypto platforms as a safe haven to hide their identity and carry out illicit money laundering. More than $4 billion were lost in cryptocurrency scams in 2019, and the situation has become even worse in recent years. To address this problem, countries have come up with their own official virtual currencies. But meeting the global AML obligations still remains a challenge in peer-to-peer exchanges.
Digital currency service providers can follow KYC compliance practices during customer onboarding to acquire the necessary information needed to verify them. This could not only allow third-party VASPs to continue offering their services with confidence but also make virtual currencies a safe bet.  
Get in touch with our experts to know more about AML compliance.