BEFORE YOU GO...
Check how Shufti Pro can verify your customers within seconds
Request Demo
No thanks
Cybercrimes and scams are rampant across the digital space, and cryptocurrency is no different. We've seen an upheaval in crypto romance scams, with victims reportedly losing $139 million, according to the Federal Trade Commission (FTC) report of 2022.
The FTC also found that over 46,000 customers reported losing more than one billion US dollars in crypto from January 2021 to March 2022. However, more victims probably didn't even report such incidents.
Types of Crypto Scams
According to Professor Chengqi 'John' Guo of James Madison University, specialising in computing information systems and business analytics, "crypto scams appeal to criminal agents who enjoy cryptocurrency's quick conversion to fiat money, ready-to-use third-party transaction apps and rich techniques to hide the true origins of funds."
Crypto scams may take many different forms, and a few of the common ones include: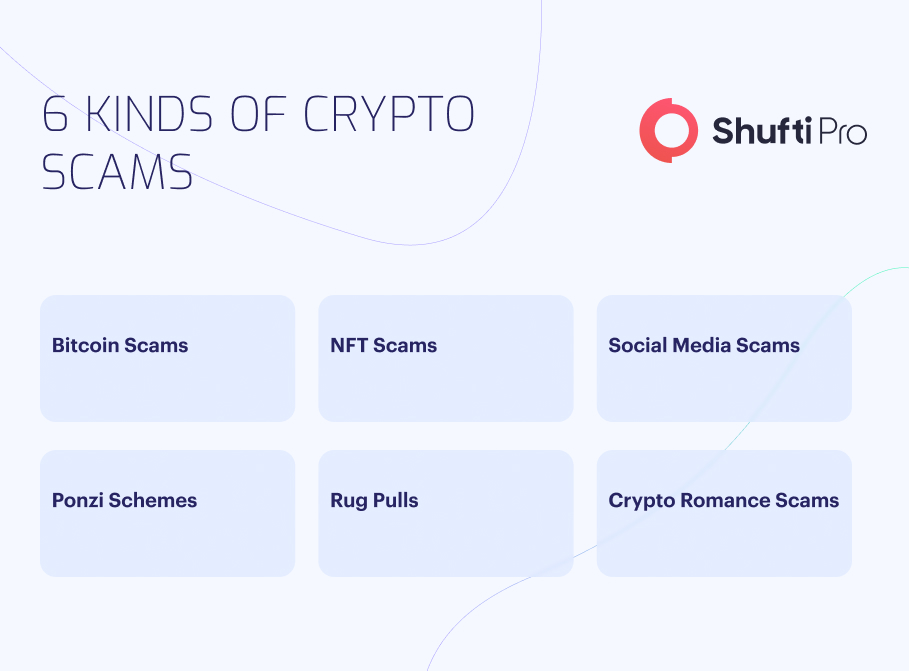 1. Bitcoin Scams
Bitcoin fraud is as old as this cryptocurrency is. One of the most common ways scammers target your Bitcoin is through phishing scams. The hacker appears to be a legitimate-sounding company or individual in a text message or email and ends up tricking victims into disclosing their credentials or sending Bitcoin to the criminal's wallet. 
2. NFT Scams
Many newbies in the crypto sector find their way to space via Non-Fungible Tokens (NFT). However, scammers are hunting to exploit newcomers and old pros by making fake NFTs. Scammers target the NFT project rising in value and make its copycat collections to fool people. If an NFT is sold at less than its worth, it is highly likely to be fake. 
3. Social Media Scams
Instagram, Twitter, and Youtube are becoming a hotspot for crypto scams.  A 2022 report from the Federal Trade Commission (FTC) revealed that half of the people who lost crypto to fraud since 2021 started with a post, ad or message on social media platforms. 
Scammers are using youtube to create fraudulent live streams, defrauding viewers of their crypto. Perpetrators make authentic-looking Youtube live streams using stolen data and inserting fake giveaway links to build credibility. Those links are phishing schemes that lead the viewers to send their cryptocurrency for the expert to invest.
4. Ponzi Schemes
Many critics say that cryptocurrency itself is a Ponzi scheme. It is a financial fraud that offers huge profits by not actually investing received funds; instead, it pays early investors with funds from new investors. Cryptocurrency is the biggest target for such schemes, relying on the "expert" with vast knowledge of sophisticated technology. The so-called expert to handle finances on your behalf, alleviating the burden for you to comprehend the tough concept of Decentralised Finance (DeFi). One of the biggest red flags of Ponzi schemes is the promise of double-digit returns, a guarantee that no legitimate investments give.
5. Rug Pulls
Rug pulls pose a greater risk within the realm of NFTs and DeFi. Decentralised finance removes the intermediaries involved in transactions with the ease of making new tokens, making fertile ground for scammers to exploit.  Scammers make a crypto token and have it listed on a Decentralised Exchange (DEX) without undergoing any background checks.  More than 117,000 fraudulent tokens were created in 2022, illegally acquiring billions of dollars from unsuspecting investors.
6. Crypto Romance Scams
Cryptocurrency has become a target of romance scams lately, with victims losing $185 million to scams in June 2022. Scammers make fake profiles on social media or dating sites to attract potential targets. They DM targets on messaging platforms such as WhatsApp to start the conversation. Once the scammers connect, they shift their discussion towards Bitcoin and other cryptocurrencies, urging the target to invest a small amount in such digital assets.
e-IDV Service to the Rescue
The rising number of scams in crypto is wreaking havoc on the sector. This is where IDV service comes in, mitigating the risk of fraud in the widespread age of digitisation. They keep scammers away and make the crypto sector compliant with Know Your Customer (KYC) and Anti-Money Laundering (AML) regulations, protecting them from hefty fines. Moreover, e-IDV services provide customers with a seamless user experience as the user has to provide their unique ID numbers only, and they are good to go. This greater customer satisfaction rate helps build a positive business reputation in the market. 
How Can Shufti Pro Help?
We at Shufti Pro continue to revolutionise the identity verification space. We have launched an e-IDV service to accelerate trust worldwide by helping the crypto sector and other businesses mitigate the risk of fraud whilst complying with the regulations. Moreover, we do active and passive verification, checking all unofficial and official sources alongside public and government sources.
Here's what makes our e-IDV service stand out: 
Completely Paperless Process:

Our e-IDV service verifies an individual through unique ID numbers, eliminating the need for manual processes. 

Quick Verification:

We offer robust verification within seconds for faster and more efficient customer onboarding. 

Simple Integration:

Our e-IDV service offers simple integration, providing an unparalleled user experience and increasing conversion and customer satisfaction rates. 
Effective Fraud Prevention:

Our e-IDV services use verified government data and facial recognition, doubling security by confirming document ownership and eliminating fraud and forged document usage.

Regulatory Compliance:

Our e-IDV service's robust data security helps the sector adhere to global data privacy regulations whilst meeting your industry's compliance requirements. 
Still confused about how e-IDV services mitigate the risk of crypto scams?