BEFORE YOU GO...
Check how Shufti Pro can verify your customers within seconds
Request Demo
No thanks
Like any other financial institution, charity organisations are also equally vulnerable to monetary crimes. Charity fraud is pervasive due to large sums of cash transfers making it challenging to monitor suspicious donors and the compromised employees involved.
The Covid-19 pandemic accelerated the rate at which charity organisations are suffering due to fraud. It's not just  financial losses, they are also facing a reputation crisis. Money laundering and terrorist financing are exploiting the charity sector due to the lack of identity verification and background screening checks. 
According to FATF Recommendation 8, countries should modify existing laws and regulations as well as adopt new ones related to the charity sector that is highly prone to financial crimes. 
The FATF also suggests that countries should make progress in their financial accounting systems and adopt the best possible "Know Your Donor" verification solutions.
Significance of KYC in Charities
It is essential for charity organisations to know whether donations are lawful or illicit money before accepting any funds. KYD is the process to verify that the donor is who they claim to be.  Knowing your donor is important for the following reasons:
To understand correlated risks when accepting huge donations.

To identify the origin of funds.

To acknowledge conditions associated with the donations.

To better understand the purpose of the donor and get to know any limitations associated with donated money. For instance, the donor sometimes asks for benefits or favourable services from the charity sector.
Having a better understanding of the donors enables charity organisations to minimise their chances of getting compromised.
Authentic data on your donor makes it easier to develop your strategies and attain positive results. In-depth attention should be paid to donations coming from unknown entities or international organisations that are deprived of financial regulations. 
How Can Trustees Identify Suspicious Donations
Criminals and terrorists use sophisticated tactics to stock and move funds. However, the grounds for storing and moving funds vary. For instance, they can use non-profit organizations to submit illegally obtained funds and steer clear of scrutiny.
Charities should have vivid strategies in place to make sure that their staff, trustees, and volunteers are well aware of this possibility and cautious of any doubtful donations. Here are a few tips that charity organisations can follow:
Identify the benefactor against integrated lists of financial sanctions targets and prohibited organisations.

Refuse donations where the donor asks for unreasonable favours.

If the trustees have logical cause to suspect that a donation is associated with

money laundering

or terrorist financing, it becomes their duty under criminal law to report it to the police. Sufficient disclosure can be made to the police or an officer from the National Crime Agency (NCA) in the UK.
Trustees should make a report to the relevant commission if unusual sums of money or other assets are donated to the charity from an unverified entity. Trustees are also required to be cautious against individuals who may be raising funds in the charity's name and never really reach it or only a small amount of money is passed on. 
If charities have concerns regarding any donations, again, they need to report this to the pertinent authorities.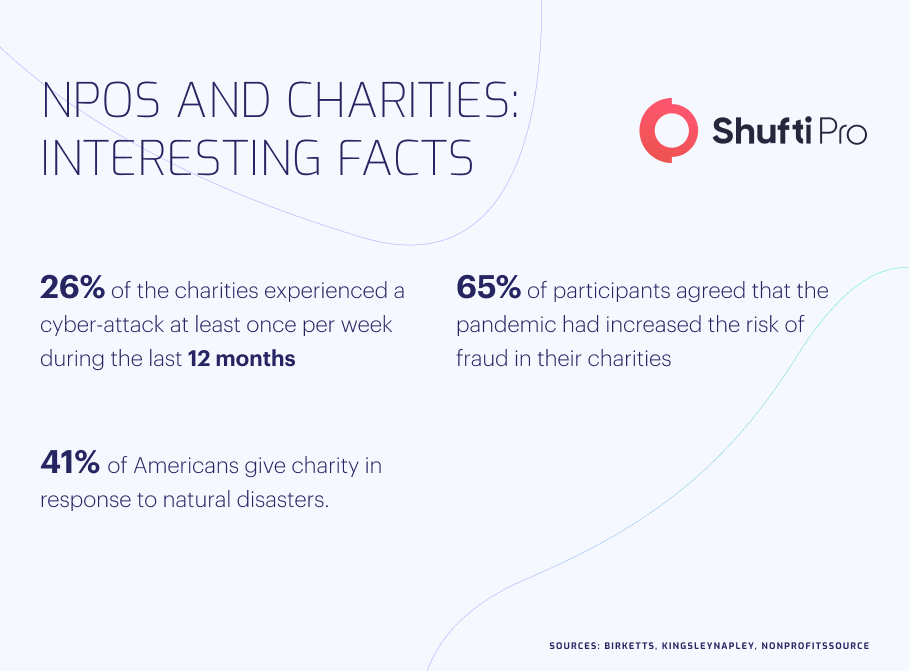 Trustees should perform more due diligence to fulfil their duty of care and avoid risks. The following studies illustrate the fact that donors are at the surge to take advantage of the charity sector for their personal gains.
Charity Commission Enquiries Unregistered Appeal in Iraq 
An unregistered appeal was inquired by the Charity Commission mainly to provide medical care to the people of Iraq. The commission had to be certain whether the funds created are as per the United Nations Oil-for-Food program and if so, to institute the licit reporting of those funds and inspecting the extent to which the trustees of the charity executed their duties in accepting those funds. 
After an in-depth evaluation, the commission established that the charity had received funds linked with unusual transactions made under the UN Oil-for-Food program and that the trustees were not keen enough on their responsibilities regarding these donations. 
The charity trustees were aware of the sanctions set on Iraq and the UN Oil-for-Food program. The commission's sole concern was that the charity organisations should have been exceptionally vigilant in receiving these donations. 
Regulatory Take on Protecting NPOs and Charities
Global regulatory authorities have taken strict jurisdictions against money laundering and terrorist financing. The FATF and other intergovernmental authorities are working effortlessly to establish laws exempting financial crimes. Here are regulatory updates from different countries:
Australia
Australian Charities along with the Non-for-Profit Commission is the prime regulator of national charities and NPOs. It has warned people against charity fraud and advised charities to remain vigilant. 
ACNC has declared Money Laundering (ML) and Terrorist Financing (TF) as potential threats to the NPOs and asked organisations to incorporate the best possible KYD and AML measures to counter these risks.
Canada 
The Canadian government has also stated that the charity sector is highly vulnerable to monetary crimes and financial scams. The Office of Consumer Affairs is the prime regulator responsible for monitoring crimes in NPOs and charity organisations. 
People are advised to contact the Canadian Anti-Fraud Call Center if suspicious donations occur.  
Germany 
As per German legislation, all charity sectors and NPOs must submit detailed information about the donors and report about how they spend the funding to law enforcement authorities.
In order to cope with the in-progress money laundering by (Politically Exposed Persons) PEPs, the German government has banned politicians from running a charity organisation.
Key Takeaways
Fraudsters are enthusiastic about using non-profit organisations such as charities to transfer unlawful funds into the legitimate system. Therefore, every welfare operation needs suitable services to screen its organisation for monetary crimes. 
Shufti Pro's identity verification solutions can help in identifying the authentic identities of benefactors through facial recognition and document verification. Powered by thousands of AI models, Shufti Pro's Know Your Donor solution promises fraud-free operations in charities and NPOs.
Shufti Pro's Anti-Money Laundering (AML) screening solution performs background checks with access to over 1700 global watchlists. The system generates output in seconds with a 99% accuracy.
Want to learn more about Shufti Pro's fraud prevention solutions?