BEFORE YOU GO...
Check how Shufti Pro can verify your customers within seconds
Request Demo
No thanks
Money laundering is a global issue, and with emerging technologies, criminals are also using more advanced ways to carry out financial corruption. Since 9/11, almost all the major jurisdictions have been working tirelessly to eradicate money laundering due to terrorists' involvement in this dirty business. Banks and other significant financial institutions have already implemented strict Anti-Money Laundering (AML) measures which have urged criminals to find more options for converting their illicit money into legal assets, and the luxury goods market has presented a viable alternative to them.
In 2021, the global luxury goods market was 283 billion euros, and this influx of money has encouraged bad actors to get involved in several financial crimes. Corrupt politicians and business tycoons across the globe are using this advanced technique to carry out heinous crimes. They invest their black money into the sector, layer it under the expensive items purchases and then export them to other countries while making their illegal income legit.
Luxury Goods Market – A Vulnerable Sector
The United States, United Kingdom, China, France, and Germany have the most significant luxury markets, and the crime ratio in all of these countries is also elevating. Expensive cars, yachts, watches, and diamonds are the primary items that are usually used by criminals to disguise their black money. Unlike other financial institutions, the luxury items sector lacks stringent security measures, making it pretty vulnerable to monetary scams. This is the major reason that in the current time, money laundering through expensive purchases is quite prevalent, and criminals prefer this sector over others to carry out scams.
Financial Action Task Force (FATF), the leading global watchdog working to curb money laundering, has also termed the luxury items sector to be highly vulnerable to financial crimes. It has also instructed all the member-states to enforce a comprehensive framework to regulate this industry and make it secure for sophisticated investors. In the wake of this, all the major jurisdictions are trying to address this challenge through Anti-Money Laundering (AML) and Know Your Customer (KYC) solutions.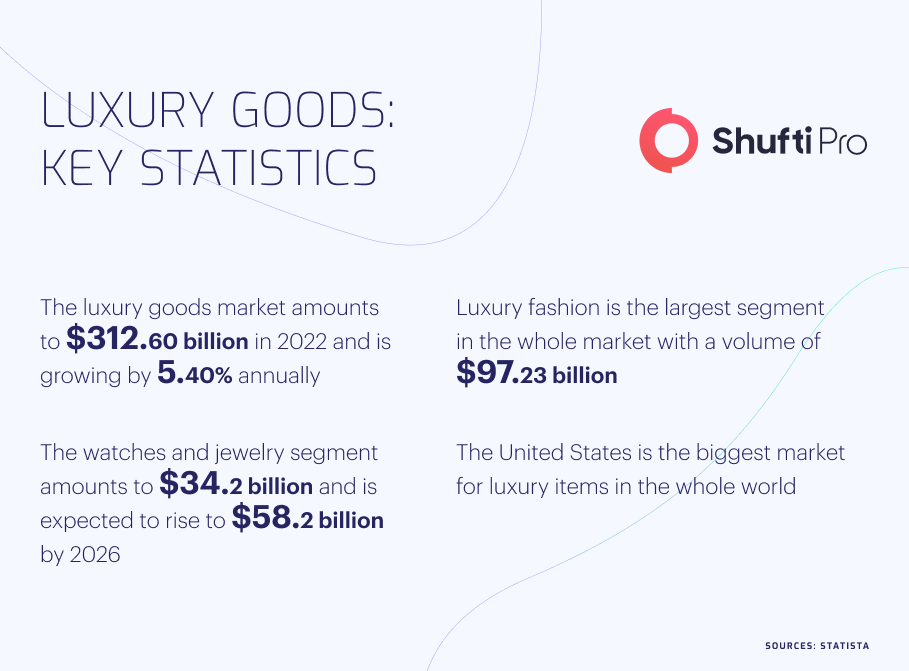 Role of Law Enforcement Agencies in Securing Luxury Goods Market
The law enforcement authorities of all the affected countries are working tirelessly to counter the money launderers and bring them under the law. The global financial watchdogs are fighting this war with different states, and so far, the results are in their favor as they can dismantle a large number of criminal gangs.
Let's have a look at some of the high-profile cases of money laundering through the luxury goods market across the globe:
$32 Million Luxury Goods Scam in Singapore
Singapore Police arrested two criminals trying to export $32 million worth of luxury goods to other countries. During the investigation, it was found that the fraudsters had been smuggling expensive items for many years. Law enforcement authorities have tracked down several bank transactions which are related to money laundering. A case has already been filed against both criminals, and Police are carrying out investigations to present more evidence before the court.
Luxury Goods Seized in International Money Laundering Investigation
The Australian Federal Police (AFP) along with other global law enforcement agencies, raided a storage unit in Canberra while seizing $10 million luxury assets and $1.5 million in cash. Besides this, a number of documents and electronic devices have also been captured that were used in illegal financial transactions. Police have arrested all the criminals and doing further investigation to charge them in court. The fraudsters are expected to be imprisoned for up to 10 years as per the nature of the crime.
FATF's Recommendations for Luxury Items Market
The Financial Action Task Force (FATF) has recognized the luxury items market as a huge threat to the existing financial system due to its vulnerability to money laundering and terrorist financing. FATF has termed precious gems, watches, cars, yachts, and airplanes to be the most common goods which are used by criminals to carry out financial crimes. A set of special guidelines have been issued to member-states by the FATF, and they are binding to all the countries; failing to do so can even lead to their names being pushed to sanctions lists. FATF has made it mandatory for all the involved actors to verify the identities of all the people who are dealing with the luxury items and report to local authorities in case of any suspicious activity.
Rules and Regulations Monitoring Luxury Goods Sector
In the wake of increased scrutiny by FATF, all the member countries are legislating new laws countering the money launderers and terrorist financiers. With all the new legislation, it has become quite difficult for criminals to disguise their original wealth under expensive purchases.
Here are some of the prominent laws enforced in different countries:
Singapore
Corruption, Drug Trafficking, and Other Serious Crimes Act (CDSA) is the primary law in Singapore that has been legislated to curb money laundering and terrorist financing. As per the CDSA, money laundering through the luxury items sector is a criminal offense that is punishable by up to 10 years. It is essential for all the industry stakeholders to implement KYC measures to keep a record of all the customers so that it can be used in case of any illegal activity.
South Korea
Under the Criminal Proceeds Act of South Korea, money laundering using any means is a serious criminal offense punishable for more than five years, and a fine of up to 30 million won. This act also covers the luxury items sector and terms it to be highly vulnerable to money laundering while issuing guidelines to business owners to implement AML measures and make a record of all the purchases through an effective KYC solution.
Ensuring Compliance and Securing Luxury Items Market Through AML Solutions
Money laundering through the luxury items sector is a threat to the overall financial system, and the global watchdogs must regularize this sector. The most optimum solution to curb this menace is through effective AML measures, which not only keep the criminals away but also report to law enforcement authorities in case of any violation of the law. It is quite a judicious approach to consult with the money laundering data accumulated by FATF and Interpol, which can help in identifying the criminals while onboarding. Unless such an ideal system is implemented, the luxury items sector will remain unsafe for sophisticated users posing threats to global economies.
What Shufti Pro Offers?
Eliminating money laundering and terrorist financing from the luxury items market is crucial for ensuring transparency in the system. The whole industry is in dire need of an effective AML solution that can identify criminals and report them to law enforcement authorities.
Shufti Pro's AML screening solution is the most viable solution for the luxury goods industry to comply with global guidelines. Shufti Pro's AML solution screen the users' data against 1700+ sanctions lists and provides results in seconds with 99% accuracy.
Would you like to get more information about AML screening solutions for the luxury items sector?