BEFORE YOU GO...
Check how Shufti Pro can verify your customers within seconds
Request Demo
No thanks
Scams have been at the forefront whenever a new tool is made available. The same goes for ride-sharing services. Ride-sharing services have added a new identity verification tool that compels its users (both the riders and the drivers) to verify their identity by uploading a legitimate ID, such as a driver's license or a passport. This will significantly reduce safety concerns and allow for a much smoother experience for the end users.
With ride-share services, identity verification is crucial. That's because the driver may "lend" the car to a friend or an unidentified third party after the verification process is complete. It reduces riders' trust in the ride-sharing company.
Massive Growth of the Ride-Sharing Industry
The ride-sharing industry's revenue is expected to grow at a CAGR of 10.38%, from 2022 to 2026, projected to cross $1 trillion by the end of 2022. With a 77.4% user penetration in 2022, and expected to reach 92% by 2026, the ride-sharing industry is showing excellent signs of growth. But all of this cannot be achieved without proper KYD and KYC verifications in place.
Millennials now prefer using ride-sharing services due to a number of advantages, such as:
Door-to-door ride services

Easy booking options

Food and package delivery

No hassle of owning the car
As a result, tremendous growth can be observed in the mobility-providing industry in the coming years.
As the growth and demand for ride-sharing services continue to grow, there has been increasing concerns by local regulatory bodies, pushing for changes in the laws. Taxi drivers often protest that personal cars cannot and should not be used for commercial purposes.
Performing rigorous background checks to ensure that riders and drivers have no criminal record, is super critical to sustaining growth in this industry. One way to mitigate the risk of fraud and scams is to deploy liveness checks during and after rides, as well as provide regular photos of the vehicle.
Rising challenges for mobility service providers
Despite Uber, Lyft, and Carem revolutionizing the way how millions of riders commute on a daily basis, these companies haven't been spared by controversies. Some of the most common issues denting the reputation of the ride-sharing companies are
Heated exchange of words between riders and drivers, often leading to threatening remarks

Peak and off-peak rates

Differing rates before and after ride completion

Predatory pricing mechanism

Corporate practices marred with corruption
Ensuring Safety Measures
Awful passenger feedback, rough driving, and fake drivers adversely affect the riders' experience. Drivers with low ratings are also considered red flags and may not hesitate to take advantage of the passengers. To deliver coherent rides, companies are making tireless efforts to enhance safety criteria. 
Regulatory Obligations 
A decade ago, ride-hailing services sprang out of nowhere, and it took time for governments to catch up. Local governments are passing on regulations aimed at controlling the operators of ride-sharing services.
These regulations have taken many different forms, from outlawing the operation of ride-sharing companies in airports to concepts like the one put forth in Austin and Texas.
Drivers for Uber and Lyft now have to undergo extensive background checks by the local police to ensure they have no criminal record.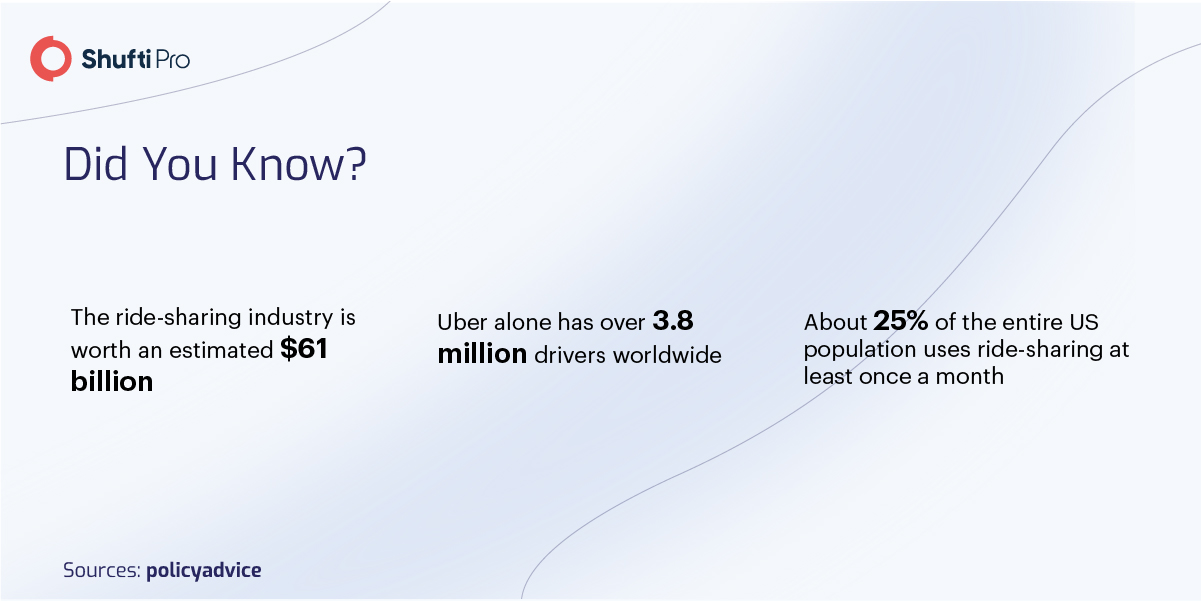 Commonly Encountered Frauds in Ride-Sharing Companies
Ride-sharing apps today have completely taken over the cab industry. But such a growth isn't without its consequences.
Incentive Abuse
A particular number of rides completed in a set amount of time are frequently rewarded for drivers. However, they can exploit this by setting up fictitious passenger accounts to make legitimate reservations and then accepting their own rides using their genuine driver account. As a result, their number of rides increases, allowing them to benefit from incentives designed for reliable drivers.
GPS Spoofing 
It's possible that your driver used a GPS spoofer. It has been documented that dishonest drivers will manipulate an app's virtual queueing mechanism by using GPS spoofers. Almost all ride-hailing businesses use a system whereby drivers are given booking preferences based on their location. Drivers can skip the virtual line and pick up a passenger right away by employing a GPS spoofer. This causes passengers to wait longer and is unfair to other drivers.
Global Regulations for Ride-Sharing Services
Lawmakers are now stepping up to prepare and get approved a list of regulations and laws for ride-sharing companies to follow.
US
The Electronic Communications Privacy Act (ECPA) is among the various state and federal regulations. These rules apply to ride-sharing services in the same ways that they do to other businesses, such as banks, insurance firms, and real estate.
Additionally, all states grant business licenses to organizations through which it is mandated that ride-hailing platforms submit criminal background checks and driver biometric records.
Australia
In October 2015, the Australian Capital Territory (ACT) legalized ride-hailing services and published new legislation that calls for background checks, vehicle inspections, and driver insurance.
In July 2016, South Australia allowed services comparable to Uber. Apps that sell rides must adhere to the safety regulations outlined in the Passenger Transport Act. All metro cab trips will now be subject to a $1 levy to help pay for this support. Taxi services were given compensation, including A$30,000 per license.
China
China's Ministry of Transport has modernised its laws to protect the privacy of consumer data. Ride-sharing firms have given very clear instructions not to share a user's data with any organization outside of the jurisdiction. All ride-hailing services are also recommended to perform routine data audits to address security risks and flaws while putting strong safeguards in place to prevent illegal activity.
Due to these stringent standards, DiDi, the industry powerhouse in ride-sharing services, was fined $1.2 billion for breaking the rules.
Final Thoughts 
In short, ride-hailing services have transformed the whole transportation sector and raised the bar for commuting. In addition to causing financial losses, identity theft, data breaches, and financial crimes also negatively impact user experiences. The only practical way for operators of ride-sharing services to combat criminals and make the platforms secure for users is to implement rigorous identity verification procedures.
The most effective way to combat the frequent identity theft crimes in ride-sharing services is to use Shufti Pro's effective identity verification services. By using facial recognition technology and document scanning to confirm the drivers' and riders' real identities, verification services can assist businesses in onboarding legitimate drivers and riders. The ride-hailing industry can use the Shufti Pro verification services to improve user experience, report suspicious activity, and comply with international rules. 
Want to learn more about our identity verification solution for your ride-hailing service?