Press Release
Shufti Pro onboards Crypto Games to provide them KYC services for secure crypto payments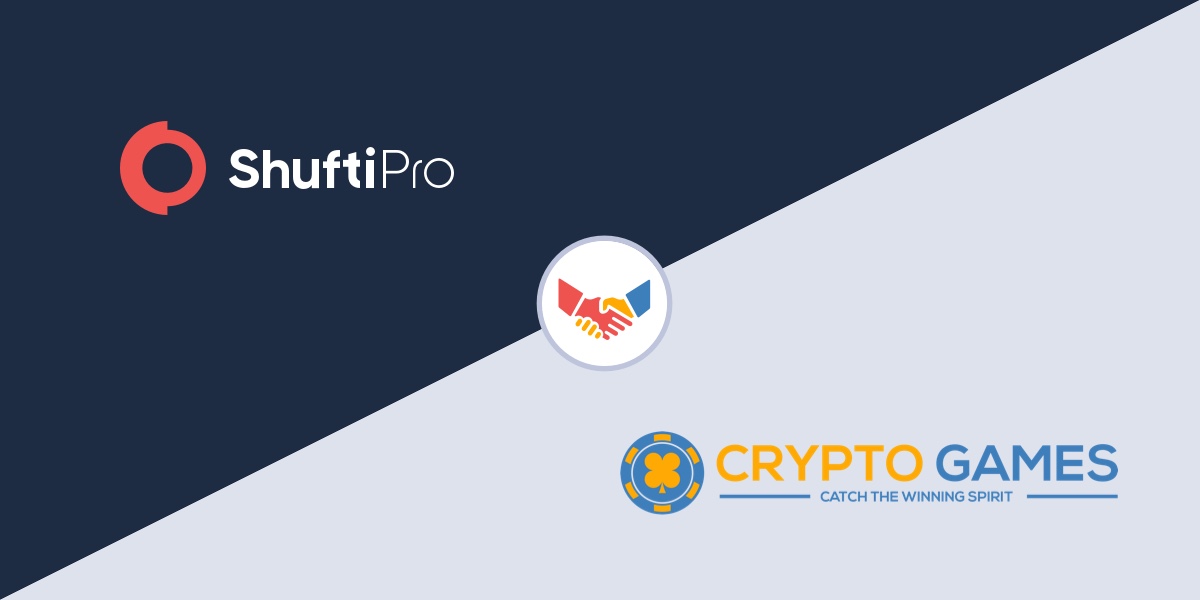 Monday, May 4, 2020 — London – Shufti Pro onboards Crytpo Games, a revolutionary entertainment venture. Shufti Pro will help them instantly verify their customers and to practice due diligence in several crypto transactions made through their platform. 
The last few decades have brought about a dramatic change to the entertainment sector, particularly the online gambling industry, which is now bigger than ever! The rise of cryptocurrencies, which uses blockchain technology, contributed immensely to this expansion of the online gambling industry, with the experts predicting it to expand even more. But fraud is also rising and prompt action is necessary to achieve predicted excellence and growth of this industry. 
CryptoGames, an online casino, which was formed by a group of cryptocurrency aficionados, saw the perfect opportunity to defy mediocrity and become one of the best gambling casinos that would outperform every existing online casino and hold up its name till the end. Unlike most other casinos, their main goal is to exceed the quality expectation of gamblers by providing them exceptional customer service and memorable experience on their platform. Practicing strict customer due diligence is a part of their strategy to rising like one of a kind gaming and gambling platform.
"Initially, we used to verify user identity manually. Over time, as our user base started to grow, this task has become quite tedious for us. The failure to verify users instantaneously not only has caused backlogging but also denied users to play instantly on our casino." Said the CEO of Crypto Games.
The company wanted to enhance its KYC practices without affecting customer experience or spending a fortune just on customer screening. They wanted a solution that could help them fight fraud, in an efficient manner, and high accuracy without sacrificing the customer experience and disturbing their budget. Shufti Pro proved to be an all in one solution for them. it offers one of the fastest and highly accurate services and that too at competitive prices. It has helped many small and medium businesses as well to practice security while remaining in their budget. Two pricing plans – pay as you go, and monthly commitment – are designed to provide price flexibility to the customers.
Expressing the confidence towards this partnership, CEO of Crypto Games said,
"CryptoGames is an online casino that has to deal in with financial transactions involving cryptocurrencies on a regular basis. Since our casino is operated online and all the financial transactions are done automatically, it can become an advantageous point for the criminals to commit various financial crimes such as money laundering, terrorist financing, and other fraudulent activities. Thus, identity verification has become an essential element to operate our casino with a clean database of users. Without having KYC policies, there is no way for us to protect ourselves from the devastating effect on the liability of our company that could be done by those fraudulent users. 
As a result, we have decided to choose Shufti Pro due to its almost instant real-time Identity Verification with near-perfect accuracy. Their flexible payment option clearly shows that they do care about small companies and are here for a fair business instead of being a money hunger company. Their pay-as-you-go plan has kept down our cost to a minimum. We are quite impressed by how everything is handled automatically without the need for us to be involved every time. The after-sales support has so far never failed to please us. We look forward to continuing our partnership with Shufti Pro as they continue to help businesses and companies fight against fraud and illicit activities."
Shufti Pro is often praised for its swiftness and highly cooperative team. It makes things easier for its customers at every step to give them a unique experience. Hence it's products are always under continuous scrutiny and support teams are available for customers whenever they need them. Talking about this partnership, CEO of Shufti Pro said,
"Shufti Pro provides unparalleled customer experience and it's our competitive edge. We are happy to provide the services that go beyond fraud prevention and can help Crypto Games in sustaining its seamless customer experience. We're excited about this partnership and look forward to maintaining it for a long time."
About Crypto Games
CryptoGames, an online casino, which was formed by a group of cryptocurrency aficionados, saw the perfect opportunity to defy mediocrity and become one of the best gambling casinos that would outperform every existing online casino and hold up its name till the end. All their games are provably fair, which indicates that there are no chances of us cheating with their gamblers. They always try to remain fair with their users, giving them an opportunity in every aspect that would be beneficial to them.
About Shufti Pro
Shufti Pro is an identity verification SaaS that offers KYC and AML solutions to worldwide clients. Using a hybrid approach of AI and HI technology, Shufti Pro keeps accuracy results as high as 98.67%. Having verified users in over 232 countries, Shufti Pro is a pioneer in IDV services to cover a large number of countries.
Contact sales@shuftipro.com to get on board.
Disclaimer:
No warranty is herein provided that the information contained in this document is accurate, up-to-date, and/or complete. In no circumstance(s), does such information constitute legal or any other advice. Any person who intends to use, rely, pass-on, or re-publish the information contained herein in any way is solely responsible for the same. We suggest to verify the information and/or obtain
expert advice
independently if required.