BEFORE YOU GO...
Check how Shufti Pro can verify your customers within seconds
Request Demo
No thanks
Freelancing websites saw an increased demand during the pandemic, and the trends continued to rise in 2021. Forbes reported in 2018 that 57 million people are working in the gig economy. According to the Commonwealth Fund, 7.7 million people lost jobs during the pandemic crisis, and the numbers kept rising when businesses could not survive the hard hit. These vulnerabilities increased the chances of people using freelancing platforms to cater to their needs. 
Even though the gig economy has provided immense advantages by bringing work at the palm of their hand, multiple challenges have emerged, and gig economy scams are one of them. Bad actors are flocking the freelancing platforms which are being used to launder money. In addition, dark web advertisements promote opportunities for freelancers to take part in the gig economy scam.
Is Video KYC Important in the Gig Economy?
In the video-based KYC verification, the gig economy gets increased satisfaction via a live encounter with the prospect and ensures the person is who they claim to be. A KYC expert confirms the results generated from the AI-driven solution to diminish the chances of error.
Types of Frauds Happening in the Gig Economy

There were times when the freelancing websites were only used to earn money and provided opportunities to people who wanted to earn slow and steady. According to Upwork, the direct impact of freelancing platforms on the economy was approximately USD 1 trillion in 2019. 
Credit Card Fraud 
A client assigns a task to the freelancer to complete within a set time period stating it to be "upto the mark". When the freelancer has completed the task, the client releases the payment. The client then reaches out to the freelancer stating that the work is not upto the mark and would like a refund. But instead of taking the money back from the same platform, the freelancer is asked to transfer funds to another bank account. 
These gig economy scams usually happen when the client is using a stolen credit card. The stolen credit card scams reported were approximately 400k in 2020.
Fake Profiles
Credit card frauds usually originate due to fake profiles. The client uses the identity of an individual who doesn't exist to withdraw cash from their stolen credit cards. False profiles are also used to get work from clients and then deliver plagiarized content after they have paid the freelancer. Other than the above-mentioned reasons, fraudulent profiles are also utilized to legalize illegal earnings. 
Money Laundering
Money laundering is a serious crime and the gig economy is being used for such crimes. Freelance websites must take effective measures to combat it. Clients hire individuals and promise them some amount if they help criminals launder money. These clients then pay gigs large sums of money defrauding the platform, which is then returned to the client from outsourced banking. 
Either freelancers or hirers ask each other for payments carried out via third-party platforms. These gig economy scams go against policies set by these platforms, but it creates an easy passage to launder money.
In 2018, a woman reported that she was approached to launder money because the clients payment methods were not verified. In March 2021, another woman was a victim of a money-laundering scam on Upwork, proving that freelancing platforms are still not safe from criminal activities.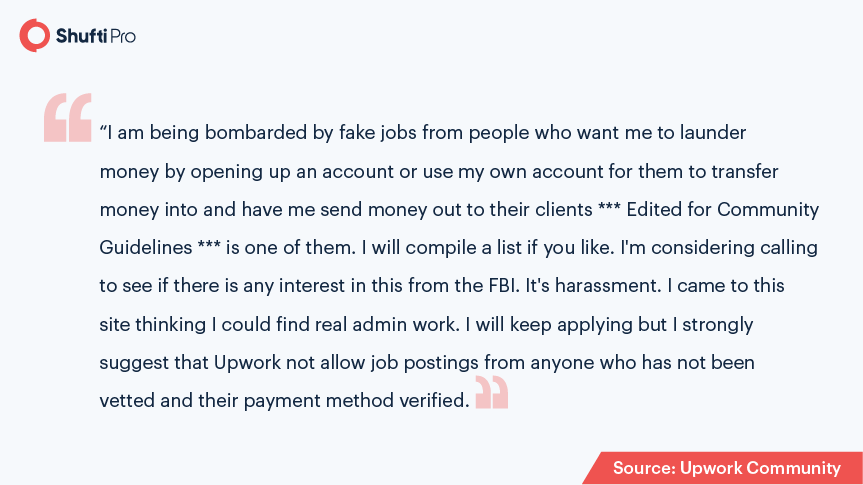 Identity theft 
Identity thieves are everywhere, and the gig economy is not safe either. Both the client and the freelancer can conduct this gig economy scam. Criminals try their best to get information that does not concern them in the name of "verification" to acquire sensitive details. They pull identity information that they don't really need and then sell it on the dark web. 
Sold Accounts
Freelancing platforms are facing the challenges of sold accounts. People are selling their well-established accounts to criminals who promise them a handsome amount of money in return for their account information. These accounts are then used to launder money, steal information, and other various crimes.

How to Avoid Gig Economy Scams?
To ensure that clients and freelancers are not victims of money laundering, freelancing platforms need to adopt robust Know Your Customer (KYC) and Anti-Money Laundering (AML) solutions. According to the global regulatory bodies, businesses are obliged to run AML/CFT screening checks before onboarding clients to meet the national goal of financial inclusion. Gig platforms are creating multiple job opportunities for freelancers and several chances for hirers to get their work done efficiently. However, creating a secure and reliable platform is essential to keep the business running. Getting scammed and leaving the client or the freelancer with no money in their bank accounts is a serious threat to the gig economy. 
Know Your Client Verification
Given the rising number of criminal activities through gig economy, there is a dire need for a robust customer onboarding flow. Here's how freelancing platforms can build a risk-free customer onboarding flow: 
1. ID Document Verification 
When onboarding a freelancer, the gig economy can adopt Shufti Pro's online ID verification solutions that verify freelance workers and hiring managers  in less than a second. The verification process requires the client to upload their government-issued identity documents such as ID card, passport, and driver's license. It then validates the authenticity of the document by extracting the text through OCR. The freelancer is later asked to upload a selfie which our verification system authenticates. 
The check reduces the chances of criminals creating fake profiles. The system also runs AML/CFT screening, which assures businesses do not onboard freelancers or clients on sanction lists, PEPs, and adverse media lists. Performing screening of the individuals present on freelancing platforms ensures effective AML compliance and can reduce money laundering cases in the gig economy. 
2. Video Interview KYC 
Video interview KYC of Shufti Pro authenticates the documents and performs a liveness check of the client. Furthermore, Shufti Pro's video interview KYC offers four models that let freelancing platforms onboard legitimate clients in less than a minute. The process is comprehensive yet least time-consuming with a market-leading accuracy rate of 98.67%. 
3. Verifying Banking Details 
Gigs are required to update their payment methods and provide freelancing platforms with their banking details. Oftentimes, individuals on freelancing platforms give other people's account details or use stolen credit cards to steal money. Shufti Pro verifies that the name of the user and the banking details are the same and do not belong to someone else. 
4. Address verification 
Shufti Pro's address verification can ensure that individuals provide platforms with legit details. The system asks the clients to upload supporting documents that may be bank statements, credit card statements, utility bills, or other monthly bills that mention the name and the address of the freelancer. 
In a Nutshell
Nowadays, freelancing platforms are incorporating identity verification services that take more than 48 hours to verify the identity of the freelancers or the clients. This delayed verification does not let clients and freelancers start working the minute they sign up on platforms. Delays during the customer onboarding processes resulted in a USD 22.5 billion loss in 2019. Therefore, businesses must adopt Shufti Pro's robust verification solutions that verify a user in less than a second through AI-powered AML screening and identity verification. 
Want to know more about identity verification and screening in the gig economy?