BEFORE YOU GO...
Check how Shufti Pro can verify your customers within seconds
Request Demo
No thanks
In our current era of modern interconnection, global travel has become more accessible than ever, opening doors to new opportunities and experiences. However, this convenience has also increased the production of fake passports and document forgery. Recent statistics reveal a significant increase in document forgery cases across the world. In 2022, nearly 24% of documents were falsified, representing a 33% surge compared to 18% in 2021. Among these deceitful documents, passports accounted for nearly 40% of the fraud, surpassing ID cards at over 26%.
The repercussions of undetected fake passports and forged documents are severe, ranging from identity theft to facilitating international criminal networks. As criminals adeptly exploit the vulnerabilities in security systems, robust verification mechanisms have become an absolute necessity. This is where passport verification comes to the rescue, an indispensable tool to mitigate the escalating risk of document forgery.
Understanding Passport Verification
Passport verification is a crucial Identity Verification (IDV) procedure that authenticates a person's identity, age, or citizenship through their passport. This authentication process typically takes place in person at border crossings and hotels. However, in the digital realm, organisations also leverage online passport verification to validate individuals remotely. Here's how:
Collect a Picture of the Passport:

The initial step in passport verification involves the individual capturing and uploading an image of their passport's data page. Depending on the circumstances, additional pictures of the passport's front and back, especially with passport cards, may be necessary. Before further processing, a pre-analysis of the photograph is conducted to ensure its suitability. This assessment checks for potential issues like glare, blurriness, or any evident signs of tampering that could hinder the accurate extraction of information from the image.
Selfie Verification:

An optional part of the verification process includes a selfie check with liveness detection, which aids fraud detection and prevention. During this check, the person is prompted to submit a photo, a series of photos, or a brief video, then compared to the passport's headshot. 

Retrieve Information from the Image:

Subsequently, various methods such as

Optical Character Recognition

(OCR), pattern recognition, or similar techniques are employed to extract relevant data from the image. This extracted information from the passport image typically encompasses details such as the individual's name, date of birth, date of issuance, gender, address, expiration date, nationality, and passport number. A substantial portion of this identifying data can be found in the passport's Machine-Readable Zone (MRZ).

Match Extracted Information with Other Sources:

The extracted information is cross-referenced with data from the individual's application or other relevant documents to ensure accuracy. Any disparities between the extracted and provided data could indicate potential fraud, typographical errors, or inaccuracies.

Validate the Passport:

Furthermore, the passport's legitimacy is verified through a series of checks that examine security features like fonts, holograms, and images. This validation process not only confirms the passport's authenticity but also ensures that the uploaded image has not been altered.
Automated identity verification systems enable swift completion of the extraction, comparison, and validation stages. However, in cases where suspicious activities or inconsistencies are flagged, a manual review may be prompted for further investigation.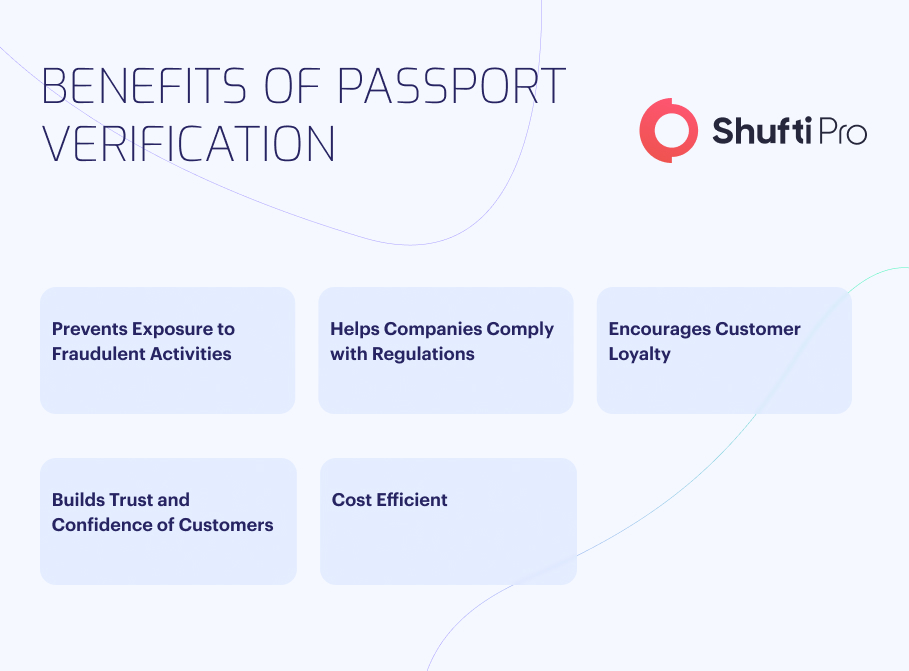 The Benefits of Online Passport Verification 
Prevents Exposure to Fraudulent Activities
Online passport verification effectively counters fraudulent activities, safeguarding users and customers from exposure to criminals by ensuring data protection and minimising data breaches. These compelling reasons highlight the importance of prioritising online identity document verification.
Helps Companies Comply with Regulations
All companies must adhere to Anti-Money Laundering (AML) and Know Your Customer (KYC) regulations. These regulations necessitate secure methods for scrutinising identification documents to verify identities and also provide guidelines on data collection and storage. Complying with these regulations is mandatory to combat fraud, money laundering, data breaches, and illicit activities. 
Encourages Customer Loyalty
As the world shifts toward digital spaces, potential customers increasingly engage in online activities. Companies that fail to adopt digital means risk losing customers to competitors who have embraced digitisation. Prioritising online verification empowers companies to retain customer loyalty and meet their evolving expectations. 
Builds Trust and Confidence of Customers
Employing secure digital processes significantly reduces the likelihood of errors, mistakes, and manipulation. Digital verification builds confidence in customers, assuring them that their data is safe and less susceptible to manipulation or hijacking. 
Cost Efficient
Digitising and securing the onboarding process for new users or customers leads to substantial operational cost reductions for organisations. Manual document verification processes and security risks are mitigated, preventing business losses due to redundant and erroneous practices and multiple touchpoints. Employing online verification services not only saves money but also shields companies from potential sanctions arising from non-compliance or poor adherence to regulations, saving millions of dollars that could otherwise be lost to errors and identity fraud.
How Can Shufti Pro Help?
Shufti Pro offers a global document verification solution that supports 150+ languages and 10000+ ID document types worldwide. We use micro-model neural networks and ensemble learning to detect fraud patterns for robust document verification.
 Here's what makes our document verification solutions stand out:
Digital Process:

Fully-automated document verification process to increase productivity and reduce manual labour

Quick Verification:

Authenticate documents within seconds, optimising conversion rates and lowering drop-offs

Accurate Results:

AI-powered verification solution with an accuracy rate of 99.3%, preventing identity theft

Tailored Documents for Verification:

Companies can select the type of documents they need to verify from our supported document types

Screen Customers for Risk Assessment:

Conducts through AML checks to mitigate the risk of financial crimes 
Still confused about how our document verification solution mitigates the risk of document forgery?