BEFORE YOU GO...
Check how Shufti Pro can verify your customers within seconds
Request Demo
No thanks
Businesses were looking for more robust and remote ways of verifying the identities of customers after the pandemic locked everybody. Little did companies know that video conferencing could actually help them in identity verification. Video KYC gained a lot of popularity last year and is now considered one of the finest ways to combat identity fraud. However, this new technology has a lot of questions and myths associated with it. Our customers have repeatedly shown concerns regarding this innovative identity verification system. So, we have asked the CEO of Shufti Pro, Victor Fredung to share his views on common myths associated with video KYC. 
What is Video KYC?
It is a remote verification method that allows businesses to onboard customers on a live video call. The KYC expert gets in touch with the end-user on a live video call and the customer digitally submits the government-issued ID document and identity is verified through a 1-1 video call. While the KYC expert interacts with the customer and guides them through the verification process, the AI checks the document and performs liveness detection in the background. 
Myth #1 Video KYC is time-consuming 
After going through the process on several websites, many people believe that video KYC is a time-consuming process. It takes hours for completion and end-users find it inconvenient to be interviewed by an expert on a video call. 
In reality, the video KYC process takes only a couple of minutes. The government-issued ID documents are uploaded and the system verifies them. It actually helps the end-user perform verification steps right in the first attempt as the KYC expert guides them throughout the process, so the process is completed quickly. The expert asks a few questions to ensure the live presence and bam! The process is complete. 
Recommended: Video KYC – Understanding the 'what' and 'how' [A short guide] 
Myth #2 It violates privacy 
There is no such thing as a violation of privacy during video interview KYC. All the discussions between the KYC expert and interviewee are encrypted. Moreover, a PCI and GDPR compliant company like Shufti Pro has taken all necessary steps to keep the security of data intact. All preventive steps to increase the security of information are taken. 
Myth #3 Video KYC has a Tedious Process
It is obvious that the 10-step or 14-step process of video KYC verification sounds cumbersome. No matter what happens, people want a solution that can onboard them or verify their identity in a second. However, the detailed procedures shared on different portals do not live up to the high expectations of customers. 
Don't worry! The process is simple and robust but the consumer has to spend only a minute or two with the KYC expert of the video call. Apart from all this, Shufti Pro's video interview KYC process is based on seven steps only. Here's how the process works and every step is as easy as pie.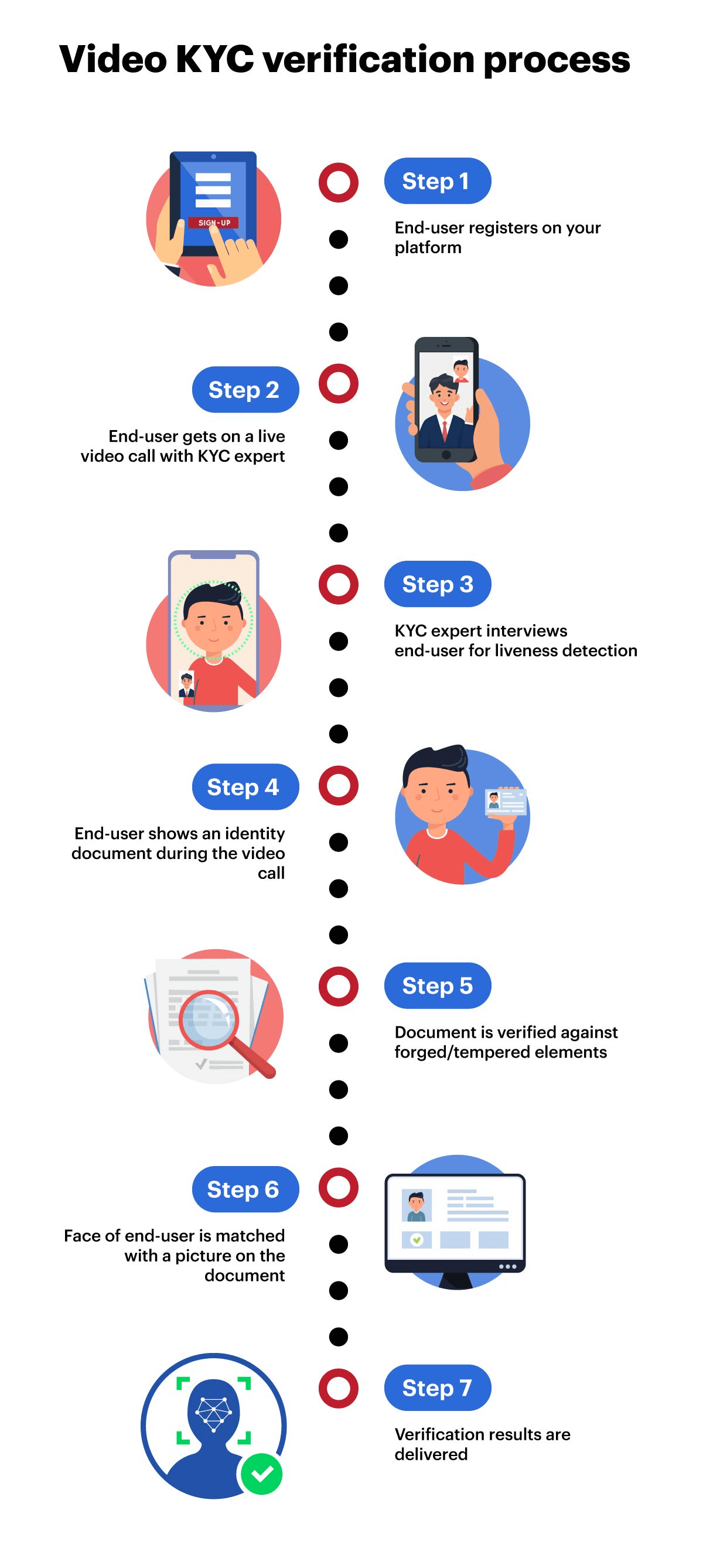 Myth #4 Any Document can be used for Video KYC
Although the identity is being verified on a live video call, any ID document is not acceptable. Only government-issued ID documents must be uploaded and shown to the KYC expert during the interview. Take a look at the list of ID documents that are acceptable (required document is based on merchant requirement): 
ID card

Driver's license 

Passport 

Credit/Debit card

Bank statement

Tax bill 

Utility bill 
"Shufti Pro can verify 3000+ document types in more than 150 languages" 
Myth  #5 Video KYC is Expensive 
No, video KYC is not expensive. In fact, it significantly reduces costs if we take a look at the other side of the story. First, the operational costs for conducting customer due diligence and identity verification decreases. On the other hand, you can combat non-compliance cost as well. Moreover, video interview KYC is the better way of onboarding customers, so you have a lot to save in that department too. 
Myth #6 Video KYC and Traditional KYC are the Same 
This is the winner of the "video KYC myth competition." There is a big difference between traditional and video KYC. Furthermore, video KYC differs from the digital identity verification system in many ways. This new version of IDV and customer onboarding is more secure, faster, and more reliable and accurate. End-users no longer have to wait in long queues to begin the process. The procedure no longer extends up to days or months. 
Complying with the changing KYC/AML regulations across the world is seamless. The AI-backed system can be efficiently trained according to the amendments in the regulations immediately. The results delivered by this new process are more accurate, whereas traditional KYC results are questionable. Lastly, the conventional Know Your Customer system has no proof of verification but video KYC does. 
Myth #7 Only Banks can Employ Video KYC
No. Although it is more suitable for the finance sector, the process is beneficial for companies in almost any sector of the world. Due to it being a substitute for in-person due diligence it is considered more suitable for banks and FIs. Want a glimpse of the perks of employing video KYC in different sectors? Here you go. 
Payment Industry – Combating money launderers and payment frauds gets easier 

Insurance Sector – Only legitimate people can be allowed to benefit from the insurance programs 

Remote Companies – Hiring the right candidates is simplified

Mutual Funds – Investments from authorised people can be guaranteed
These are just the top sectors that can use video KYC for fraud prevention and effective onboarding. Several other industries like the automobile and crypto sector can also benefit from it.
Key Takeaways
Video interview KYC has become the best possible solution for identity verification in the new normal. Remote customer onboarding could have been a nightmare because bad actors have developed thousands of ways to achieve their illicit goals. With video KYC on a business' side, it can fight identity fraud effectively. Nevertheless, there were several myths associated with this new IDV method. The CEO of Shufti Pro has shortlisted and debunked the most common ones. 
If you have heard any other legend or have trouble understanding video KYC, feel free to get in touch with us.