BEFORE YOU GO...
Check how Shufti Pro can verify your customers within seconds
Request Demo
No thanks
Coordinated sanctions after the Russian invasion of Ukraine have made the headlines due to their seriousness as a tactic against both state and non-state entities. As world governments are responding to the Russian invasion of Ukraine, financial institutions must consider sanctions lists to design their AML regime. 
While the list of sanctioned entities continues to build up, the sanctions are being considered the most robust ever directed at a major economy. One of the most important aspects of the AML compliance regime of any business or financial institution is monitoring and screening new and existing customers against global sanctions lists.
The Role of Sanctions Lists in AML Compliance
Although robust and comprehensive screening against global watchlists has always been one of the requirements in financial institutions, the situation is different amid the Russian invasion of Ukraine. As of now, financial regulators want banks and other institutions to adopt stringent compliance measures. Recently, an Internal Revenue Service request was made in the US, asking for $5 billion in funding to implement the sanctions. Based on the current situation, it is predicted that the scrutiny of AML screening and compliance will be made tougher for businesses. 
This means firms will have to consider global sanctions lists and upgrade their compliance programs to remove any possible loopholes that can lead them into trouble. For businesses that offer financial services throughout the world, the list of sanctioning bodies keeps growing. It's common for businesses to monitor a large number of sanctions lists in order to analyze and mitigate possible risks.
Global Sanctions Lists
The Office of Foreign Assets Control (OFAC) is one such sanctions list that is operated by the US Department of the Treasury. The OFAC manages economic sanction lists that include those businesses and entities that belong to high-risk areas and jurisdictions and pose direct threats to the US economy or national security. The OFAC categorizes these high-risk entities in separate sanctions lists. One of these lists is the Specially Designated Nationals List (SDN), which includes "individuals and companies owned or controlled by, or acting for or on behalf of, targeted countries". Apart from the SDN, there is also a Consolidated Sanctions List that collects data from various sanctions lists. 
Similarly, the EU also has a sanctions list that is part of the Common Foreign and Security Policy (CFSP). The regulatory measures against particular jurisdictions, entities, and businesses are all controlled by the CFSP. The EU's facilities for institutions include lists of jurisdictions with restrictive measures, entities present on global sanctions lists, the actions that must be taken against particular restricted measures, and the relevant guidelines.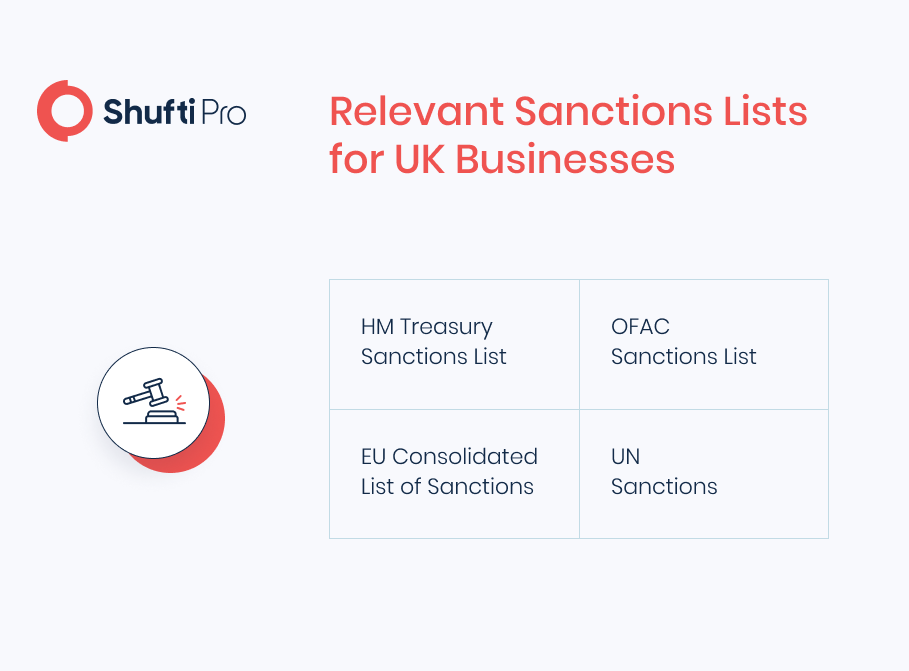 In the UK, sanctions lists are mainly overseen by the Office of Financial Sanctions Implementation (OFSI), which is itself a part of HM Treasury. The OFSI manages a constantly updated list of entities and jurisdictions that are under financial sanctions, including entities that are subject to asset freezes and those with financial implications. The UK's sanctions list underwent a structural upgrade in February this year.
As for Canada, sanctions are categorized in three acts – the United Nations Act (UNA), the Special Economic Measures Act (SEMA), and the Justice for Victims of Corrupt Foreign Officials Act (JVCFOA). Another act that is formulated to allow the freezing and seizure of assets belonging to politically exposed persons (PEPs) is called the Freezing Assets of Corrupt Foreign Officials Act. The Consolidated Canadian Autonomous Sanctions List enlists entities and businesses that are under sanctions regulations from SEMA and JVCFOA.
The United Nations Security Council Consolidated List contains all individuals and entities subject to measures imposed by the U.N. Security Council. In March this year, the list had 703 individuals and 256 entities. While these common sanctions lists are considered by most businesses and financial institutions in order to comply with AML regulations, there are also new and lesser known sanctions lists like Interpol's law enforcement lists, government and state agencies. In addition to these, there are lists of financial and securities regulatory authorities as well as media lists that keep track of involvement in negative events that stain the reputations of organizations.
How Businesses Can Comply with Global Sanctions
Businesses that offer financial services globally are bound to consider more than 1700 sanctions lists before onboarding customers from high-risk jurisdictions. On top of that, all these sanctions lists are constantly updated with entities being added and removed depending on the risk. Global sanctions lists do not follow a unified pattern or structure, and are obviously maintained in native languages of the countries that maintain them. Monitoring sanctions lists and analyzing the risk associated with potential clients is not an easy job for companies that do not implement robust AML measures.
Businesses have enough reasons to incorporate an AML screening solution within their system. These include non-compliance penalties and the risk of a damaged reputation. The reason why some companies choose to skip this step is the cost of manually monitoring the sanctions lists to mitigate risks. However, these implications still do not outweigh the risk of losing customers after becoming victims of organized financial crime.
AML Screening for Businesses
A robust AML screening solution comprises the automated processes that enable businesses to effectively eliminate bad actors and secure their transactions from fraudulent activities and money laundering. The AML screening process starts with identity verification and goes all the way to checking the presence of potential clients on global sanctions lists.
The AI-driven solution uses machine learning algorithms to simultaneously monitor sanctions lists that provide global access as well as those from financial regulators and law enforcement agencies. AML screening also performs real time scans of lists of politically exposed persons (PEPs) to prevent financial institutions from unintentionally assisting money laundering or terrorism financing.
What Shufti Pro Offers
Considering the current situation of Russian sanctions, it is more important than ever for businesses to develop or improve their AML compliance measures. Adopting a risk-based approach not only includes being vigilant in transaction monitoring and KYC verification but also a robust AML screening mechanism. 
Shufti Pro's AI-driven AML Screening solution is a state-of-the-art solution for financial institutions as it can help them identify criminals and curb money laundering activities. Shufti Pro's identity verification system is based on PCI DSS standards that assist payment service providers to remain compliant with the regulations. Offering services in 230+ countries and territories, AI-powered AML solution protects data security and makes cross-border transactions secure.
Want to learn more about AML Compliance for your business?