BEFORE YOU GO...
Check how Shufti Pro can verify your customers within seconds
Request Demo
No thanks
As digitisation continues to change our world and daily practices at an exponential rate, criminals continue to conjure up new ways to bypass our ever-changing security measures, thus making ID document verification a necessity across most sectors; all businesses are required to adhere to strict Know Your Customer (KYC) compliance requirements and in the event of failure, may face hefty non-compliance fines.
Many firms still use manual processes to authenticate their clients. However, these archaic methods are time-consuming and error-prone, making it easier for fake documents to pass through the security check. This is where automated document verification services come to the rescue, streamlining the process and mitigating the risk of fraud.
2022 in Review: The Alarming Rise in Document Forgery
Forgery can take shape in any form; however, all share a similar aim – the financial exploitation of individuals. Scammers alter most common documents used for authentication, such as driving licences, passports, ID cards,  and work permits. 
In line with the research of Shufti Pro's in-house team of experts, 2022 witnessed a rise in ID theft, with expired and tampered documents being the common reasons for rejection. The last year marked a 24% rise in ID document forgery compared to 18% of such cases in 2021. Among the forged documents, 40% were passports, and 26% were ID cards.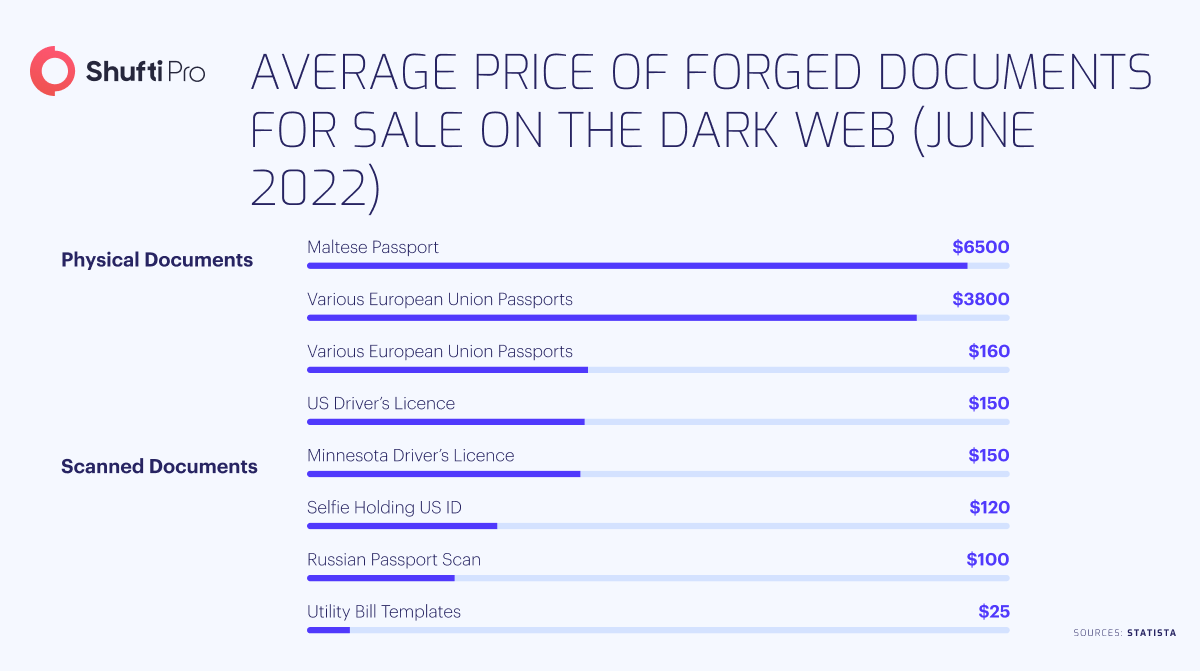 Top Documents Used by Criminals to Commit Fraud
Criminals are commiting document fraud by altering a genuine document through various means and techniques. Here are different types of documents prepared by scammers to fulfil their malicious intent.
Counterfeit Documents:

Criminals reproduce an official document without authorisation from a relevant source. 

Forged Documents:

Scammers deliberately alter an original document to add, delete, or change the information to make it appear genuine. Forged documents include page substitution, photo substitution, data modification, and attack on an individual's visa or entry/exit stamp.  

Pseudo Documents:

Cybercriminals replicate codes of genuine documents like national ID cards or passports even when they are not officially recognised by global organisations or countries. 
Scammers also use genuine documents to perpetrate fraud: 
They obtain original documents fraudulently through robbery, theft, corruption, etc. The documents they gather this way are called Fraudulently Obtained Genuine (FOG ).  

They misuse official documents; this type of forgery is known as "similarity fraud".  
The Cost of Document Fraud in Different Countries
The penalties for document fraud differ from country to country. Below are a few examples of different legislation penalising scammers for document forgery:  
In the United Kingdom, the

Forgery and Counterfeiting Act of 1981

outlines different crimes related to forgery, including using a fake document or instrument. Article 1 defines the offence of forgery as

"a person is guilty of forgery if he makes a false instrument, with the intention that he or another shall use it to induce somebody to accept it as genuine, and by reason of so accepting it to do or not to do some act to his own or any other person's prejudice."

Penalties for forgery in the UK include fines, imprisonment sentences of more than ten years or both, based on the crime and the type of document forged.

Article 441

from sections 1 to 12 of the Penal Code defines the offence of forgery in France. Document forgery is

"any fraudulent alteration of the truth, likely to cause harm and accomplished by any means whatsoever, in a writing or any other medium of expression (…)."

The penalty varies depending on the document that is being forged but usually includes fines of more than EUR 75,000 in case documents are delivered by the French authority and imprisonment sentences of up to 5 years.

However, in Germany,

Section 267

of the Criminal Code defines the offence of forgery as anybody who falsifies an authentic document produces a

counterfeit document, or uses a falsified or counterfeit document should be

"liable to imprisonment not exceeding five years or a fine."

In Germany, even the attempt to forge any document shall be punishable. The Country's Criminal Code plans for sentences from a period of six months to ten years based on the level of crime, such as monetary loss caused, etc. 
How to Minimise the Risk of Document Forgery?
Here are a few things that businesses must consider to stop document forgery in the age of digitisation:
Learn to check the authenticity of

documents

they frequently accept, such as social security statements, bank statements, etc.)

Check out for stamps, seals, and other patterns of authenticity

Look for the expiry of documents prior to accepting

Contact law enforcement in case they suspect any document is fake or altered

Create secure records to stop scammers from misusing them (i.e., using polycarbonate for identity documents, see-through windows, and micro text)

Conducting background checks

Asking for multiple types of

documents

for identification, such as employment letters, income statements, etc.

Check for any document details inconsistencies like date of birth, address, phone number, etc.

Asking  different questions to cross-check information on source documents

Deploying AI-powered document verification software that detects fraud within seconds.
Where Does Shufti Pro Step in?
Proper verification of documents is crucial to comply with KYC and Anti-money Laundering (AML) regulations. This is where Shufti Pro fits in the puzzle, offering an AI-powered document verification solution to onboard legitimate clients within seconds. 
Here's what makes Shufti Pro's document verification solution stand out:
Ensure the accuracy of the format

Verify the authenticity of MRZ

Detect folded/crumpled edges

Verify hologram/rainbow print

Check photoshopped/tampered/forged documents

Detect blurriness/exposure
Still confused about how a document verification solution keeps fraudsters at bay?