BEFORE YOU GO...
Check how Shufti Pro can verify your customers within seconds
Request Demo
No thanks
"Sharing Economy" is a term that has become popular in recent years, and the current digital world is highly dependent on this advanced concept. In this system, different stakeholders cooperate to provide services and benefit each other. The primary parties involved in the sharing economy are the hosts, customers, drivers, and couriers, who connect to each other through a digital system. The significant services in sharing economy may include; ride-hailing apps, food delivery, and house rental facilities. All of these businesses are widely used across the globe, and with emerging technologies, operations are getting easier for users.
Uber, Airbnb, and Bolt are some common shared economy services used frequently by customers on a routine basis. The global revenue of sharing economy was $18.6 billion in 2017, which has increased to $40.2 billion in 2022. However, multiple security issues are associated with this business model, particularly identity theft, money laundering, and other financial losses. Unlike other sensitive financial organisations such as banks, the sharing economy lacks stringent rules and regulations, which has encouraged criminals to carry out scams without leaving any trail. It has become essential to regularise this growing sector through efficient Know Your Customer (KYC) solutions and make it a secure place for customers.
Sharing Economy – An Overview
Sharing economy is a system that works on the principles of P2P providing services to users through online mobile apps or websites. eBay is considered the first sharing economy platform to offer services in the field of household goods, automobile parts, and many others. In a few years, this trend has picked up pace, and currently, all the users across the globe are surrounded by sharing economy products/services. Uber,  the largest ride-hailing platform, has more than 93 million users, with around 3.5 million drivers across the globe. Just like Uber, there are a large number of P2P platforms which are efficiently working and easing the operations for customers.
In order to use any sharing economy service, users have to input their personal details like name, address, image, ID number, and social security number, which in turn makes them vulnerable to financial criminals. The bad actors attempt to steal users' data and exploit it for various online scams while onboarding any platform through stolen identities. In this way, the original user does not get a hint about the theft, and criminals successfully carry out fraudulent activities, leaving no clue for law enforcement agencies. So addressing these security concerns through screening measures is quite crucial for the global regulatory authorities.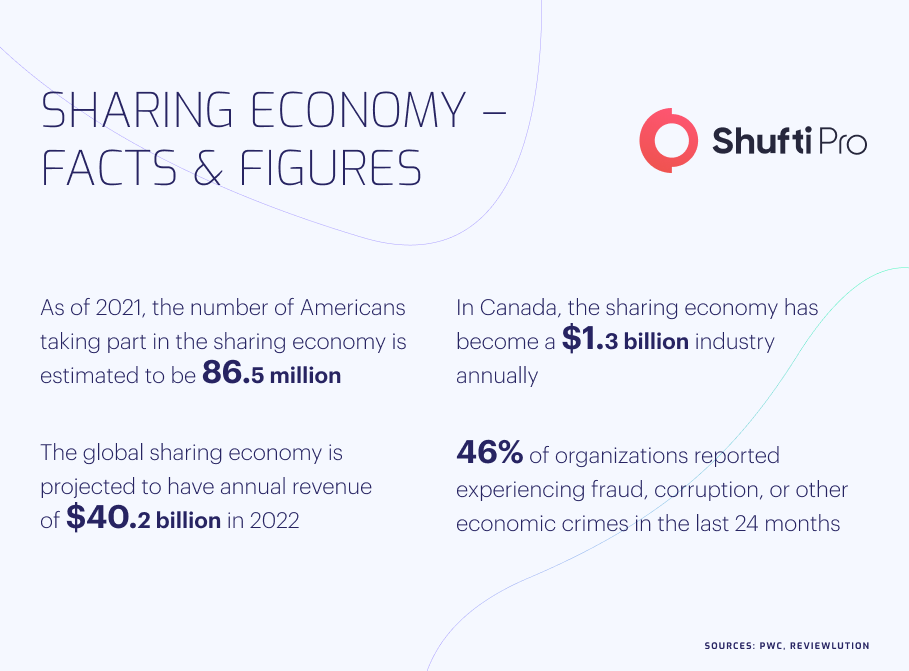 Worldwide Criminal Cases in Sharing Economy Platforms
The crime percentage in sharing economy platforms is increasing every year, and the law enforcement authorities of all the major jurisdictions are taking drastic steps to counter the criminals. Ride-hailing apps and food delivery services are used frequently by customers and are the prime target of fraudsters.
Let's have a look at some of the high-profile criminal cases affecting the sharing economy sector:
19 Charged in Ride-Hailing Fake Driver Account Scheme
Federal prosecutors in the USA charged 19 persons who have been found to be involved in a fake driver account scheme. The Police have established that scammers stole the identities of more than 2000 users and further exploited those details to make fake driver accounts. Criminals were selling illegal accounts to those persons who did not meet the standards to be a driver on a specific platform. The law enforcement authorities have stated that a few more persons associated with this gang have not yet been arrested and are making raids to detain them.
Five Brazilian Nationals Charged in Nationwide Identity Theft Ring
Five Brazilian nationals have been charged in US court for their involvement in multiple crimes, including identity theft and account takeover. During the investigation, it was found that criminals stole many users' identities and made fake accounts on ride-hailing apps and food delivery platforms. Using these illegal accounts, they were making fake orders, abusing the deals, and even selling the accounts to other interested buyers who were not eligible to work on these apps. The case is still ongoing in court, and criminals are yet to be penalised.
Global Regulatory Authorities Monitoring Sharing Economy
With the increasing use of sharing economy services, criminals have started exploiting loopholes using advanced techniques, urging global regulatory authorities to take firm action against it. Due to the unique nature of sharing services, different laws apply to them in various countries.
The United States has moved further and approved the Anti-Money Laundering Act 2022, which has all the provisions related to the prevailing money laundering and identity crimes through digital platforms. As per this act, it has also been made mandatory for all online services, including sharing economy, to implement robust identity verification mechanisms, which can help verify the criminals using fake identities to onboard the system and protect the sensitive data of all the sophisticated users.
To add to it, Europe has also passed the 6th Anti-Money Laundering Directive (AMLD6), and the authorities keep on working to improve this act with time. As per AMLD, sharing economy and other remote service providers will have to implement stringent identity verification and AML measures to counter the financial criminals. AMLD has shown quite positive results as overall digital fraud in Europe has declined in the last year.
Ensuring Compliance in Sharing Economy Through KYC Solutions
Know Your Customer (KYC) solutions cover all the security checks crucial for verifying the users' true identities while onboarding. Biometric authentication of customers in real-time and then comparing the details with the ones on their documents can really distinguish criminals from sophisticated users. These measures will not only restrict bad actors from abusing the system and stealing other customers' identities but also ensure transparency in the overall service-providing system. The majority of financial companies across the globe have implemented KYC measures which have produced fruitful outcomes, so the sharing economy sector can also be made secure through the same process.
Final Thoughts
The sharing economy services have facilitated users in an unprecedented way, and they are here to stay for a long time. Combating financial crimes, particularly identity theft and money laundering, is crucial for the sustainability of the system, which will ensure overall transparency.
Shufti Pro's state-of-the-art, globally trusted IDV suite offers the most compatible solutions tailored to the sharing economy sector. Powered by an AI algorithm that is getting smarter over time, Shufti Pro's KYC solution verifies users' true identities through biometric authentication and document verification. It is efficient enough to provide results in a matter of seconds with ~99% accuracy.
Would like to get more information about KYC solutions for the sharing economy?