Meet Shufti Pro Team at PayExpo 2019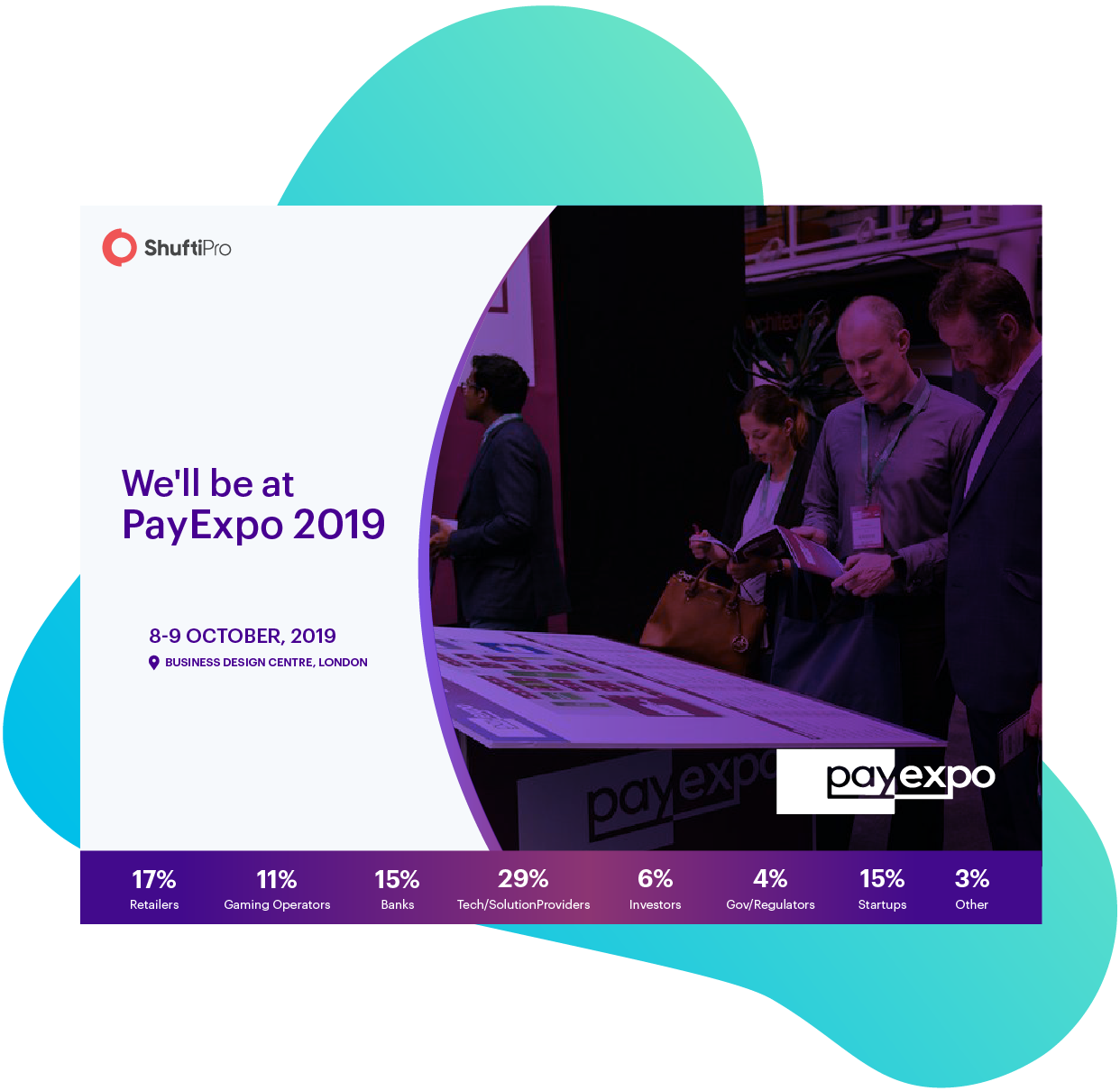 Shufti Pro is excited to be a part of the upcoming PayExpo to be held from 8 to 9 October 2019 at the Business Design Centre, London, UK. It's the UK's largest payments event, PayExpo is essential for anyone involved and interested in making payments faster, easier and more secure. It's the best place to share knowledge and rub shoulders with disruptors and innovators driving change in payments.
Shufti Pro will be showcasing its various solutions and services related to identity verification, KYC and AML Compliance. It will be a perfect platform to get acquainted with new features and services launched by Shufti Pro in recent months. Services like Biometric Consent Verification and integration of OCR-based data extraction technology will be highlights of this AI-run SaaS product at the PayExpo this fall.
Returning to its sixth year PayExpo is the best place to share knowledge and meet with distributors and innovators driving change in payment. It's UK's largest and most influential card and payments event showcasing the latest technology and innovation to banks, retailers, gaming groups, government, transport operators and mobile network operators. Whether the interest is in launching a new payment channel to the consumer audience or scaling the reach and functionality of the existing payments platform, PayExpo will provide you with solutions and inspiration.
Shufti Pro is no stranger to such high-octane events as it has previously attended various other conferences of similar nature in different parts of the world. With outstanding features like Universal Language Support and Hosted Verification Page, Shufti Pro has already attracted attention from major businesses around the globe. Shufti Pro will be giving live demos of its real-time verification results for KYC verification and AML screening at PayExpo 2019. We invite you to visit our stall and see for yourself how the next chapter in identity verification services looks, as we introduce the world to a future where online marketplace will be free from online frauds, identity thefts, unwanted financial risks and scamming individuals. Take a trial run of how AML checks by Shufti Pro work, with the help of a large data bank. A Data bank, that contains data from 1000 Watchlists, FATF defined PEPs and +3000 databases maintained by the world's largest watchdogs like OFAC, ASIC, FSA, and FCA to name a few. You can even witness our consent verification service in action at PayExpo 2019 as Shufti Pro's bespoke Artificial Intelligence identifies and verifies your hand-written consent note.
Pay us a visit, our representatives will be happy to walk you through the process of effortlessly integrating Shufti Pro with your existing applications, software, and web portals through our RESTful API, Android and iOS SDKs.
We look forward to meeting you at the biggest tech conference of the year. 
You can also send us an email to book a demo at PayExpo 2019. Feel free to reach us at: 
costas@shuftipro.com
(+357) 99 697484