BEFORE YOU GO...
Check how Shufti Pro can verify your customers within seconds
Request Demo
No thanks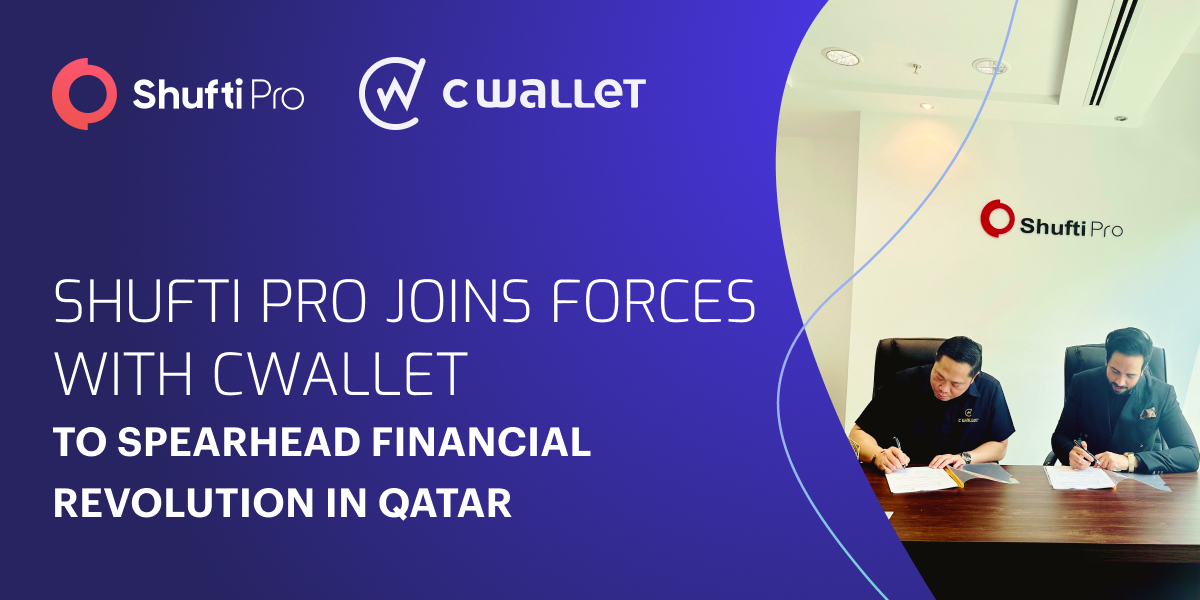 Shufti Pro Joins Forces with CWallet to Spearhead Financial Revolution in Qatar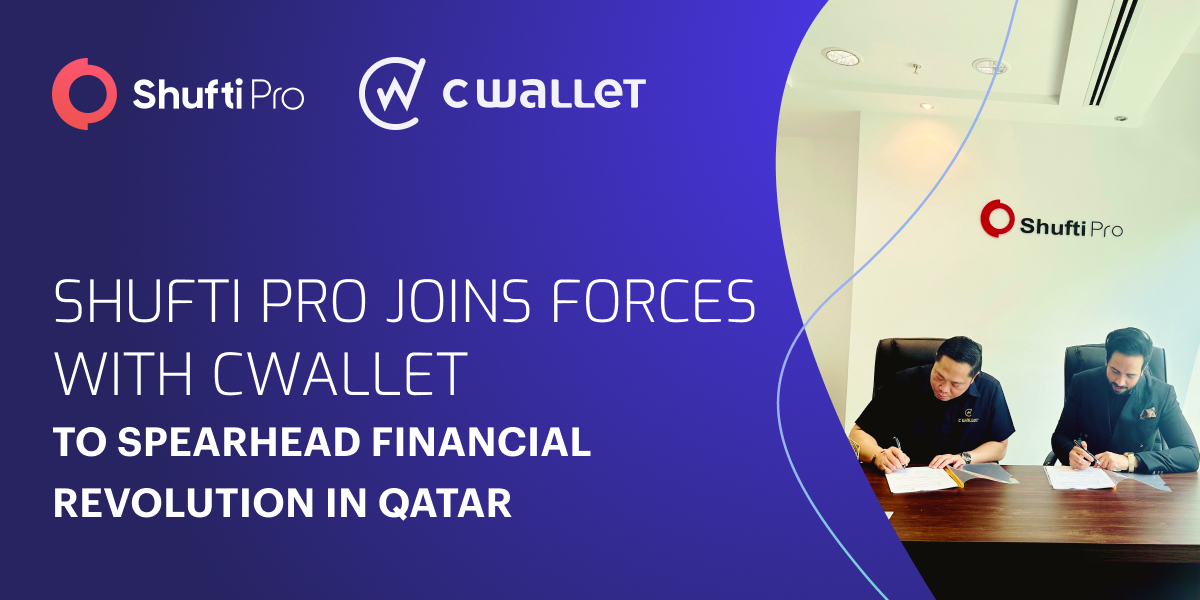 Initially Published on PR Log
London, UK – August 15, 2023 – Shufti Pro, the leading identity verification (IDV) service provider, has joined forces with CWallet, an acclaimed FinTech startup in Qatar. This strategic partnership aims to enhance the digital financial journey for customers in the region, revolutionising their experience.
CWallet is a licensed Payment Service Provider by the Qatar Central Bank and one of the leading FinTech institutions in Qatar and the region, offering a wide range of innovative financial solutions for consumers and merchants. Their services range from a cutting-edge mobile money wallet, cross-border remittance, and seamless peer-to-peer transactions to versatile online and offline payment options.
Shufti Pro stands at the forefront of the global stage, leading the way in revolutionising verification and compliance solutions. With an unwavering commitment to enhancing financial security and fostering trust, the company's relentless pursuit of innovation sets it apart as a true industry trailblazer.
In a significant development, CWallet played a pivotal role in bringing Shufti Pro to Qatar by facilitating its approval from Qatar Central Bank (QCB). This achievement underscores the commitment of both companies to empower Qatar with cutting-edge FinTech solutions. CWallet recognised Shufti Pro's IDV services for their accuracy, efficiency, and reliability, further solidifying the partnership's foundation.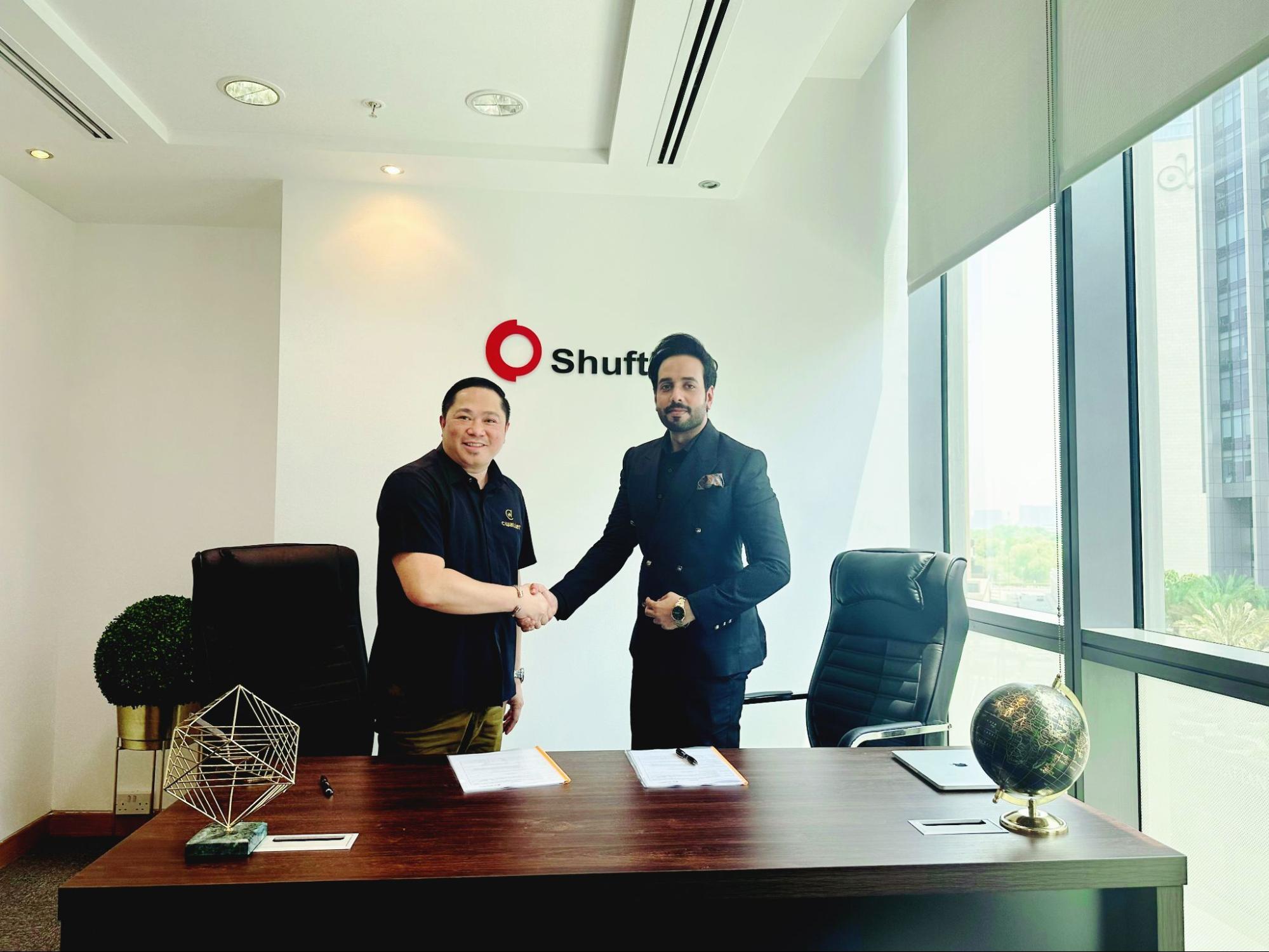 "We are keen on working with Shufti Pro on a long-term basis, including other territories that CWallet will be penetrating. We are confident that we can even bring more customers to Qatar. However, we need its support in hosting the solution locally," said Mr. Michael Javier, Founder and CEO of CWallet.
Commenting on this partnership, Victor Fredung, CEO of Shufti Pro, expressed his pleasure by saying, "At Shufti Pro, our vision is to redefine global verification and compliance solutions. Our collaboration with CWallet, a like-minded company dedicated to advancing the future of payment, is a testament to our shared commitment to simplifying the customer experience.  This partnership opens up immense opportunities for residents and businesses in Qatar."
About CWallet
CWallet is an award-winning Fintech Startup with basic principles of Payroll, Payment, and Remittance, allowing users to receive their salary on time, conduct online and offline transactions, and ultimately send money at any time, anywhere with any currency. The company is in line with the United Nations ESG (Environment, Social, and Governance) goals of supporting Financial Inclusion and Literacy by promoting a cashless society without leaving anyone behind.
About Shufti Pro
Shufti Pro is a market leader in building organisational trust through its identity verification services, including KYC, KYB, KYI, AML, biometric verification, e-IDV, and OCR solutions. The company aims to empower global businesses with its suite of 17 different IDV products, offering secure verification of 10,000+ ID documents in more than 150+ languages. Since its inception in 2017, Shufti Pro has expanded to six international offices, helping businesses in 240+ countries and territories. 
For more information, please contact
Paul Keene
Snr. Digital Marketing Manager | Shufti Pro
[email protected]
+44 020 3435 6498
Market Pro
Marketing Partner | Shufti Pro
[email protected]