BEFORE YOU GO...
Check how Shufti Pro can verify your customers within seconds
Request Demo
No thanks
As criminal activity increases every year, the massive amounts of data being uploaded to the internet are attracting the attention of criminal minds. They are clever enough to take advantage of regulatory systems by sophisticated means available. Furthermore, as firms throughout the world become more adept at digital onboarding, cyber criminals have improved their strategies for conducting ID document forgeries.
Many businesses continue to employ traditional methods to verify their client's ID documents. However, these outdated processes are tedious and error-prone, making it simpler for forged documents to pass security checks. This is where automated document verification solutions come in handy, speeding up the process and lowering the chance of fraud.
What is ID Document Forgery?
ID document forgery is a criminal offence in which an individual manipulates or fabricates ID, intending to mislead others and take advantage. ID document forgery is defined as intentionally modifying a legitimate document to add, erase, or amend information whilst displaying it as legitimate. Forged ID documents might involve photo swapping, data alteration, passport or ID number changes, etc. The most popular forms of forged documents include copying a person's signature from an ID for illegal usage. The sign could be on paper or digital.
ID document forgery includes the modification of a document using photoshop or other types of software, which is classified as electronic manipulation. The proliferation of electronic documents has fueled falsification using photoshop and deepfakes. Digital manipulation has increased in the past few years, but the bright side is that software solutions are available to keep individuals and businesses safe.
The Alarming Rise in Document Forgery
Forgery can take many forms, but they all have the same goal in mind: financial harm to individuals and businesses. Scammers modify the most commonly used authenticating documents, such as driver's licences, passports, ID cards, work permits, etc.
According to Shufti Pro's in-house team of experts Annual report, 2022 saw an increase in ID theft, with obsolete and altered documents being the most common causes for rejection. The number of ID document forgeries increased by 24% last year, compared to 18% in 2021. Passports ID theft accounted for 40% of the falsified documents, whilst ID cards accounted for 26%.
Countries that Suffered the Most
Document forgery is defined as an attempt to falsify users' ID documents to get past verification systems. Shufti Pro's experts observed document prefiltration all over the world. Pakistan, Saudi Arabia, and Hong Kong have the greatest rates of document falsification at 45%, 43%, and 42%, respectively, revealed the expert report. Furthermore, France, the United Kingdom, and Spain had the lowest rates of ID document forgery at 26%, 25%, and 24%, respectively. The statistics presented above are more than sufficient to demonstrate that businesses must be more careful in terms of protecting their systems. This includes verifying identities and the KYC & AML requirement, including document verification, to avoid penalties and protect their system.
Document forgery increased dramatically in 2022, with passports topping the list, followed by ID cards, at over 40% and 26%, respectively. The percentage of document fraud was roughly 24%, an increase of more than 30% from 2021. Pakistan, India, and China were the top three countries in terms of visa fraud and passport forgery, with 41%, 40%, and 39%, correspondingly. The same applies to identification cards. These documents were tampered with the most and were utilised for a variety of illegal actions. And sold on the dark web.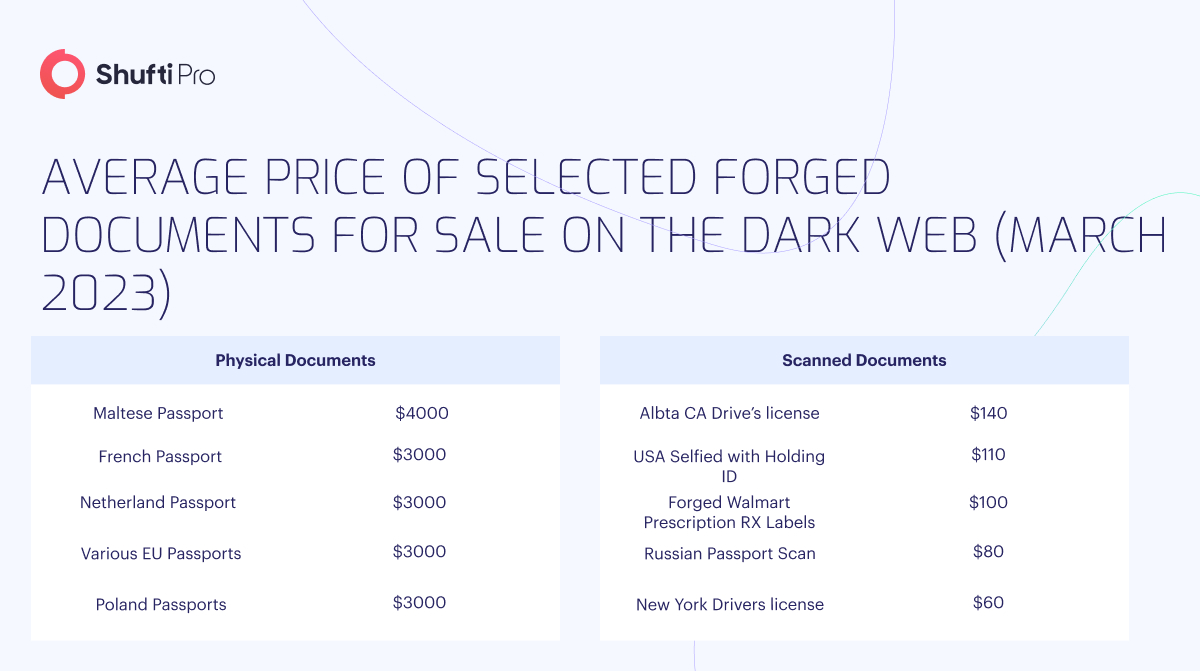 Top Fraudulent Documents Used by Criminals
Document fraud is committed by criminals who change real documents using various methods and strategies. Scammers use several types of documents to carry out their evil aims.
Counterfeit Documents
Criminals copying an official document without permission from the appropriate source are called counterfeiting documents. 
Forged Document 
Scammers purposefully alter original documents by adding, deleting, or changing information to make them appear legitimate. Examples of forged documents include page or photo substitution, data modification, and stealing an individual's visa or entry/exit stamp.  
Pseudo Documents
Cybercriminals copy the codes of legitimate documents such as national ID cards or passports, even if they are not formally accepted by worldwide bodies or governments. This sort of fraud occurs when the codes from government documents, such as passports or national identity cards, are duplicated. And it is done with such skill that no regulatory authority can identify such anomalies from the outset.
Similarity Fraud
Scammers may also utilise real documents to commit fraud. They get genuine documents illegally through theft, burglary, and corruption, among other methods. The documents they steal in this manner are known as Fraudulently Obtained Genuine (FOG) or similarity fraud.
How to Minimise the Risk of ID Document Forgery?
As ID document forgery becomes more prevalent in the digital age, businesses must take these measures:
Learn to verify the legitimacy of identity documents

Look for authenticity stamps, official seals, and other recognition patterns

Before accepting any ID documents, check to see the expiration date

If an ID document looks forged or altered, contact law enforcement

Make secure records to prevent scammers from exploiting them

Do a background check

Request other various sorts of identification documents, such as job letters, financial statements, house contracts, society letters, etc

Check for inconsistencies in document details such as date of birth, location, fax, phone number, etc

Ask relatively different questions to cross-check data from source documents

Deploy artificial intelligence-powered document verification software that discovers counterfeited ID documents in seconds
Explore More: Fight Fraud And Reduce Fake Customer Accounts With ID Document Forgery Detection
Penalties for Forging and Falsifying Documents
Forgery is a felony in all countries; however, the consequences in all locations differ from one to the next, depending on the laws and regulations they might have. 
Forgery is a federal offence in all states in the United States. The Code of Federal Regulations of the United States specifies forgery as: "anyone, with intent to defraud, who falsely makes, forges, counterfeits, or alters any obligation or other security of the United States is guilty of a federal offence." In the United States, forgery is penalised by no less than five years in jail or a penalty of up to $25K or both in severe cases.
In the United Kingdom, forgery is defined as "a person is guilty of forgery if he makes a false instrument, with the intention that he or another shall use it to induce somebody to accept it as genuine, and by reason of so accepting it to do or not do some act to his own or any other person's prejudice." Based on the offence and type of document falsified, penalties may include fines, up to ten years in jail, or both.
Legal Foundation that Deals Document Forgery
The following legislation and legal bodies deal with the document forgery and implement penalties:
3rd, 4th, 5th, & 6th EU Money Laundering Directive

The UK Bribery Act

The UK Modern Slavery Act

The Customer Identification Program (CIP) of the USA Patriot Act

The Financial Action Task Force (

FATF

)

Financial Crimes Enforcement Network (

FinCEN

)

Bank Secrecy Act (BSA) and Office of Foreign Assets Control (

OFAC

) under FinCEN

Financial Conduct Authority (

FCA

)

Office for Professional Body Anti-Money Laundering Supervision (

OPBAS

)

Markets in Financial Instruments (MiFID-II) Directive

Australian Transaction Reports and Analysis Centre (

AUSTRAC

)
Best Practices to Avoid ID Document Fraud
ID document Fraud is a worldwide problem with serious financial and reputational effects. It can impact individuals and organisations, and it shows distrust in our digital lives. With the growing sophistication of forged document crimes, all organisations, employees, and consumers must take responsible measures to prevent them.
Companies must implement effective measures to avoid being targeted by falsified or forged documents. Though criminals are well ahead, the entire planned disaster can be subsided or avoided if sufficient measures are implemented at the right moment. 
The following are the most effective techniques to eliminate the possibility of document forgery.
Get a Trustworthy Document Verification Solution
First and foremost, businesses must have an effective ID document verification system to verify the individual, client, or partner's identity. Partner with an IDV service provider who can assist the organisation in catching criminals using forged documents. 
Document Verification with Shufti Pro
In all, combating document fraud in 2023 requires a combination of unparalleled prevention measures and a detection system that includes a technology-led human method for detecting proof of forgery. 
Shufti Pro provides a comprehensive ID document verification solution that improves traditional methods of validating people's identities with advanced technology. It grasps data from paper documents quickly and correctly using Optical Character Recognition (OCR). The service examines ID document properties such as holograms and patterns to assess if they have been manipulated using AI-powered techniques. 
Biometric verification systems, such as real-time facial recognition, further protect against identity fraud. Shufti Pro analyses and verifies retrieved data by matching it with other data, government, or private databases. Because of the service's global reach and adaptability, it is excellent for many organisations and assists them in complying with essential legislation, even if they are from complex legislation. 
Tired of ID document fraud and looking forward to protecting individuals and businesses whilst staying compliant?