AI-powered COVID
Certificate Verification
Verify COVID certificate in real-time from
concerned authorities with Shufti Pro's instant
digital vaccine certificate verification service.
Global coverage for passenger onboarding
Fake COVID certificate detection
Swift COVID clearance for public areas
Vaccine certificate verification bringing
travel back to normal
Integrate coronavirus certificate verification service
and onboard COVID-free passengers only. Shufti Pro
incorporates enhanced AI checks to authenticate
vaccination certificates in real-time and identifies
fake and forged COVID passports.
Now verify COVID certificate for travel right
away without any integration or installation.
Watch 2-minute explanation
How Shufti Pro's Coronavirus
Certificate Verification Works
Authenticate COVID-19 certificate in just three simple steps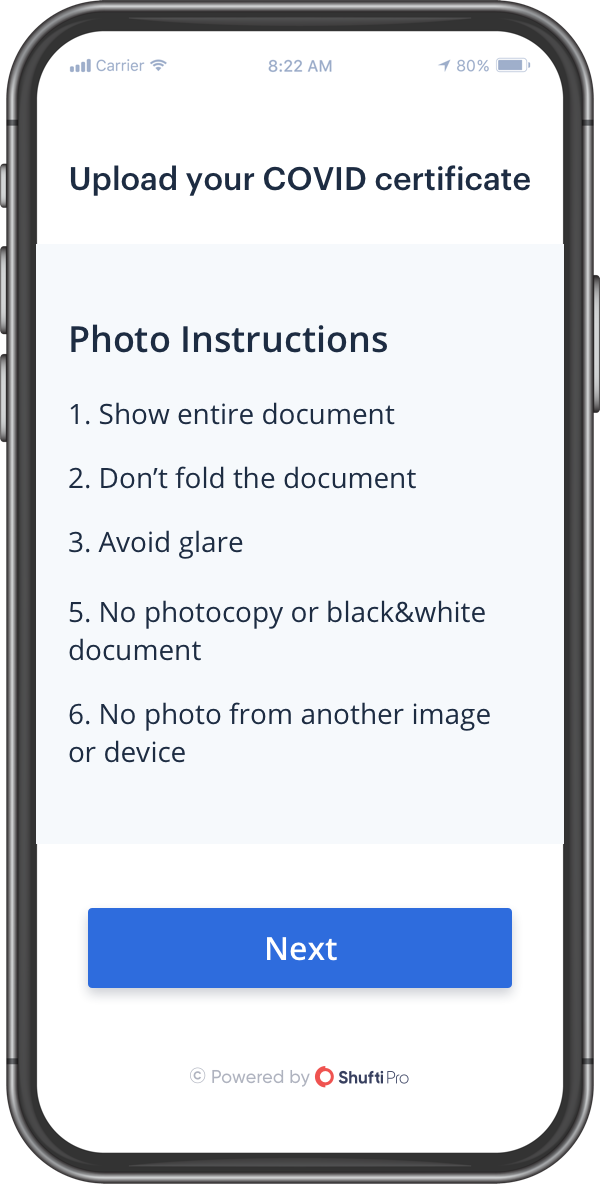 Open Shufti Pro's COVID
certificate verification in
your browser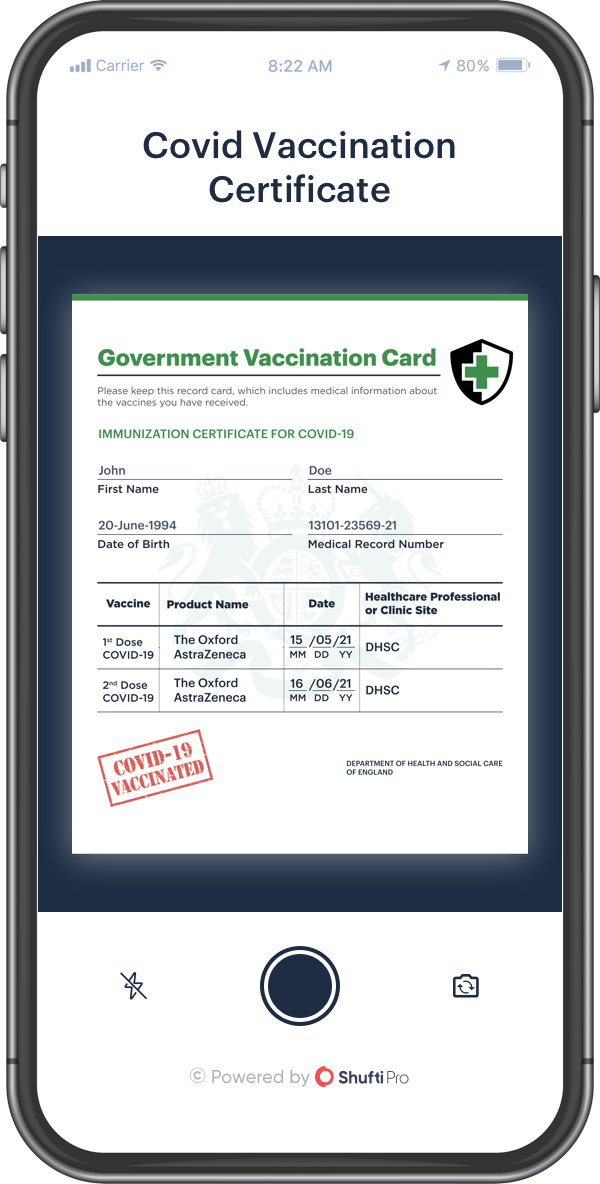 Upload COVID certificate
picture or display in front of
camera for auto-capture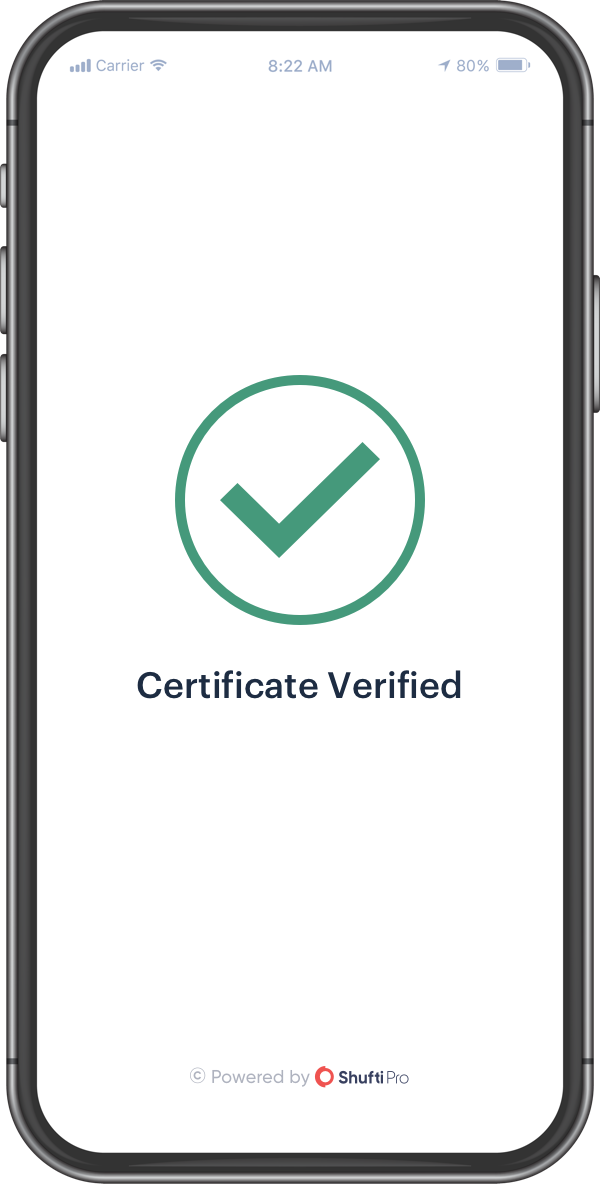 Shufti Pro verifies vaccine
certificates from concerned
authorities around the globe
Authentic
Shufti Pro is globally compatible.
Verify vaccine certificate
anytime, anywhere.
Secure
We are a GDPR compliant
company and practice robust
data security standards.
Quick
COVID certificate verification
results are delivered within
10 seconds.
Instant COVID certificate
authentication for
seamless onboarding
Our AI-powered COVID vaccine certificate verification service is
fully equipped to authenticate COVID certificates from global
concerned authorities. Shufti Pro provides a definitive yes or no
result about the vaccination status of an individual within seconds.
Test authenticity of certificate format
Detect forged/photoshopped information
Verify certificate issuance, if it is delivered
by authorized entity
Verify name and personal information to ensure it is not stolen
No installation,
No integration –
It's Simple!
Shufti Pro aims to offer fast, secure and convenient
solutions. COVID certificate verification is designed
in a similar manner to fully automate the vaccine
certificate authentication at airports, shopping malls,
cinemas, arenas, and public transport terminals.
No need
To integrate the solution into your system
For fancy kiosks or hardware for certificate authentication
To install any app for COVID certificate verification
---
All you need is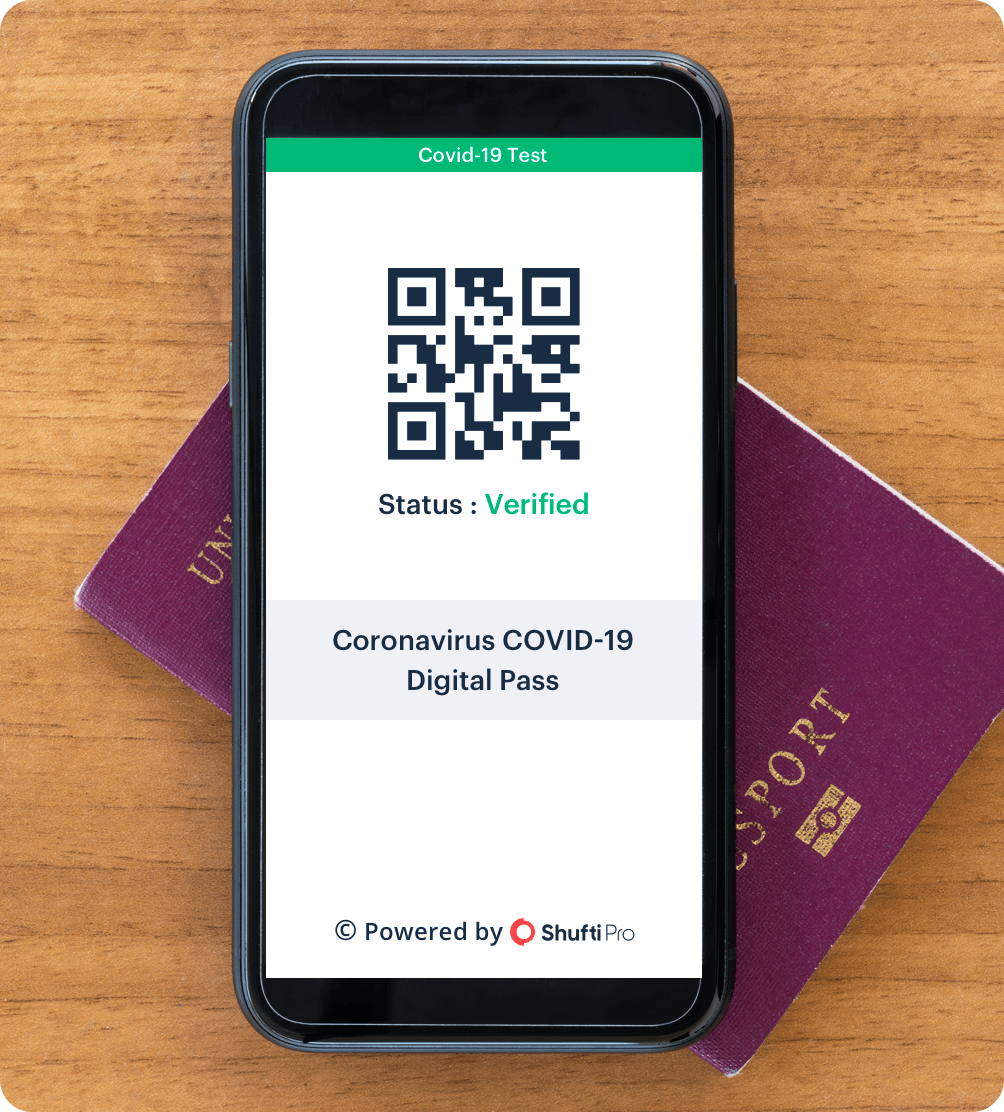 Reviving international travel
with vaccine passport
verification and IDV
With Shufti Pro, perform identity authentication and
vaccine certificate verification in a go. Our solution
utilizes enhanced AI technology to verify the user's real
identity in real-time to combat identity frauds while
successfully confirming if the customer is COVID-free.
Identity document verification
Biometric facial authentication
COVID-19 certificate verification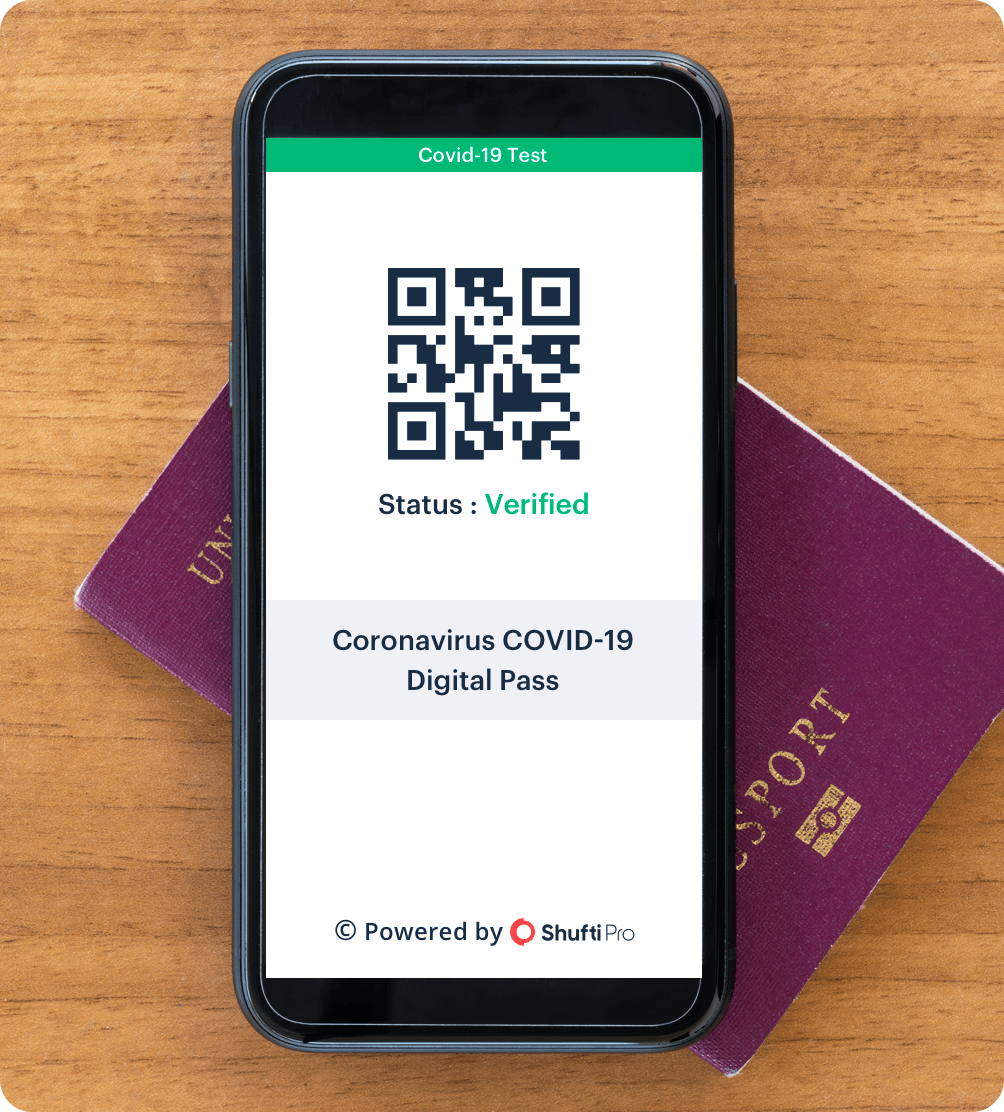 Industries
Fulfil social distancing protocols and bring life to normal by
allowing only COVID-free customers to enter the premises.
Airports
Identity verification and Covid
certificates verification at
airport in seconds.
Arenas & conferences
Swift COVID-19 clearance
with vaccine certificate
verification
Cinemas
COVID-free audience
verification within 10
seconds
Shopping malls
Real-time COVID-free passenger
onboarding to resume inter-city
travel
Amusement parks
Quick COVID certificate
verification to eliminate delays
in customer service
Public transports
Entertainment revival with
instant COVID certificate
verification