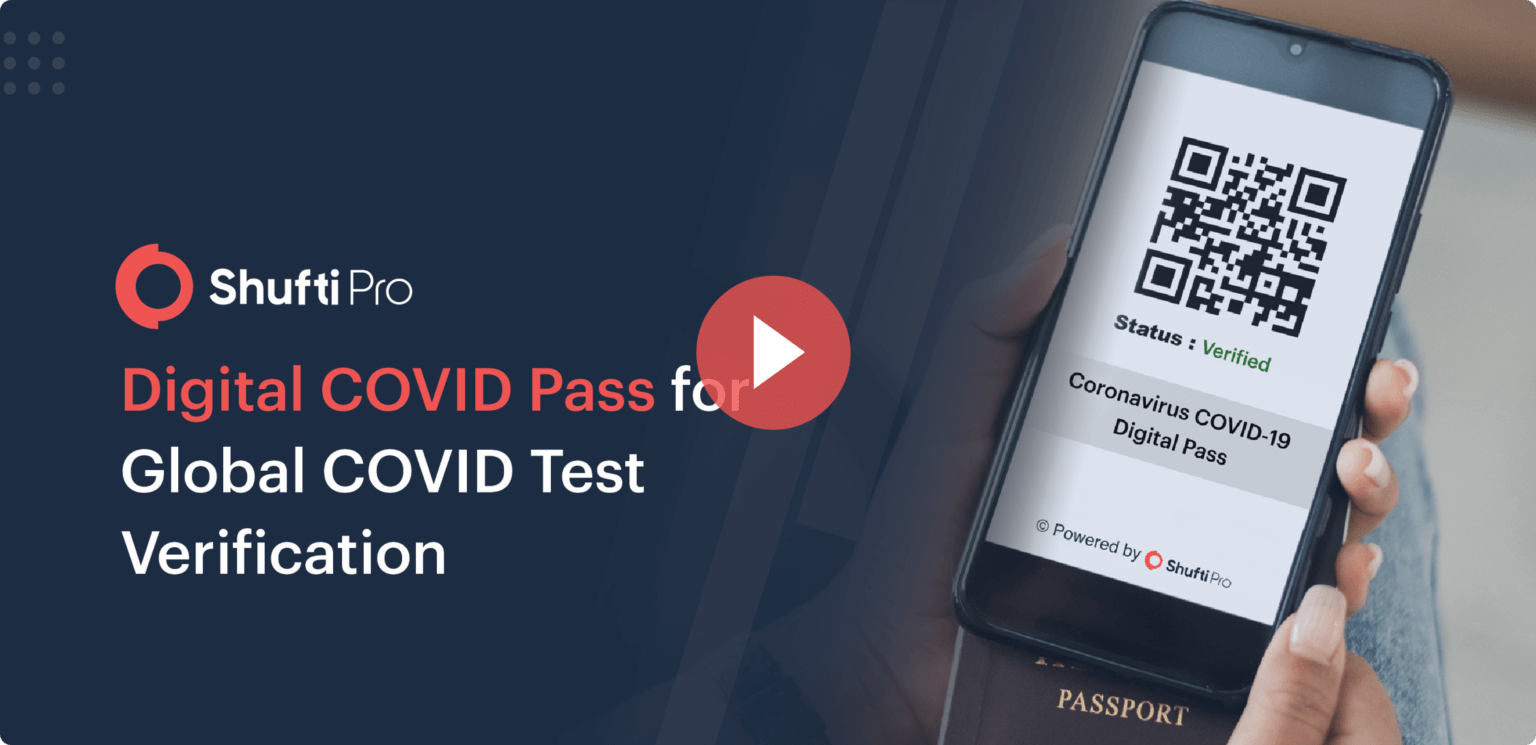 Reviving Trust and
Safety with New Normal
IMF

reported that 1.5 billion people were travelling in
2019 while it fell by over 65% in just the first half of
2020, and it will recover to the 2019 level by 2023.
COVID test verification is the new normal adopted to


resume normal life activities

from a trip to a shopping
mall to international vacation. Having a negative
COVID test is as important as having a valid passport
or an ID to enter a public facility.
Digital COVID Pass by Shufti Pro provides a thorough
solution for

airport

clearance,

Cinema

revival and
customer COVID-free onboarding at

shopping malls.

Airports, Shopping malls, and public transport sector
can start using digital COVID pass right away without
any installation or app download.
Securely Onboard
COVID-free Customers
Fulfil social distancing protocols by allowing only COVID-free
customers to enter shopping malls, arenas, airports and cinemas
Airports
Authenticate user identity and negative COVID test in a go
Arenas & Conferences
Adopt new normal in entertainment
and business activities with swift
COVID clearance
Shopping malls
Eliminate tiring delays in
customer service with faster
COVID test authentication
Cinemas
Verify your audience in a go with
COVID test verification in seconds
Public transport
Resume inter-city travel and public
transport with un-assisted COVID
test verification
No integration or

Installation Required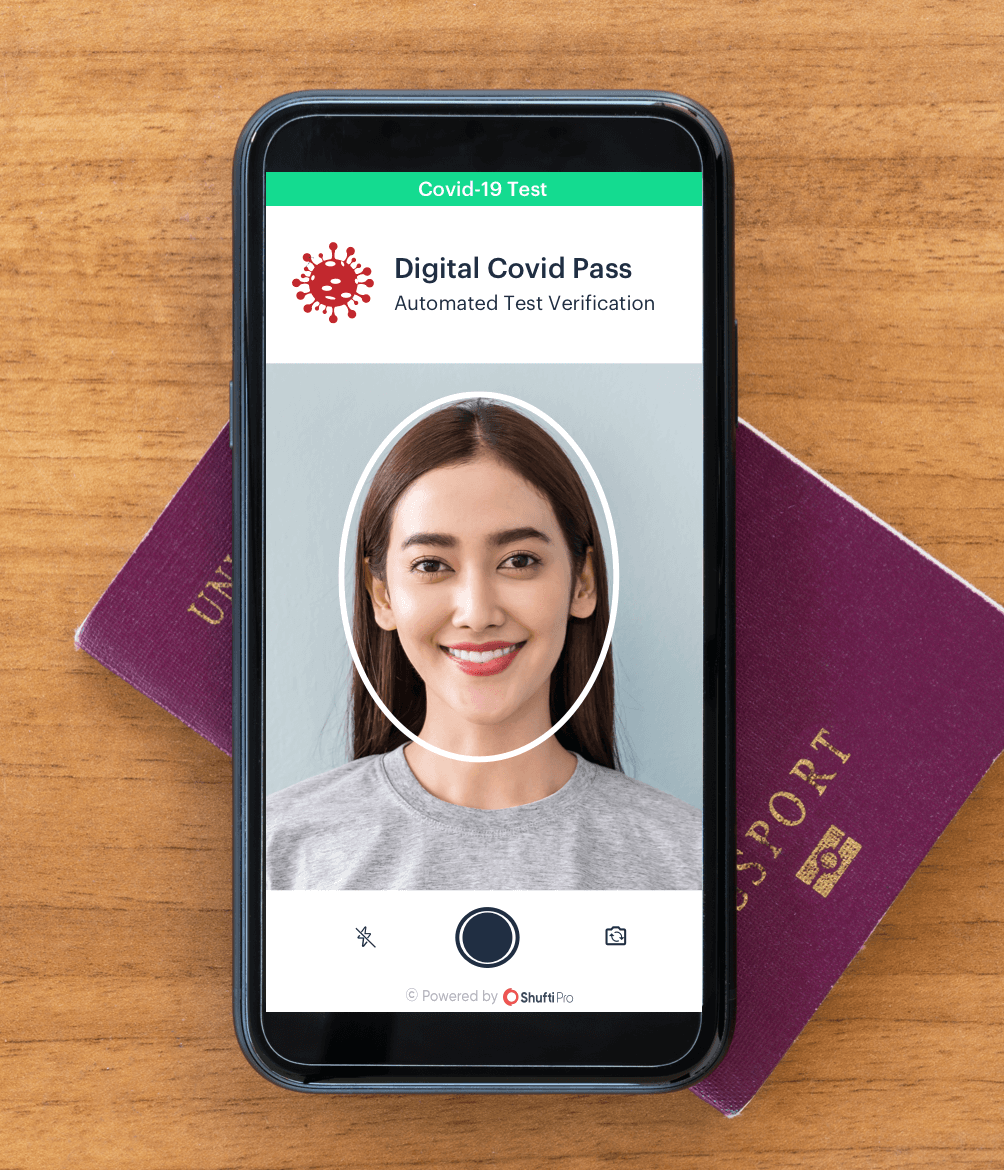 Shufti Pro believes in fast and reliable security.
The digital COVID pass is designed to kick-start
automated COVID test verification at any
airport, cinema, shopping mall or public
transport terminals.
All you need is a browser and a webcam to
start verifying COVID-19 PCR tests
No need to integrate the technology into
your security system or Kiosks
The user doesn't need to install any app for
COVID test verification
No need for any fancy kiosks for security clearance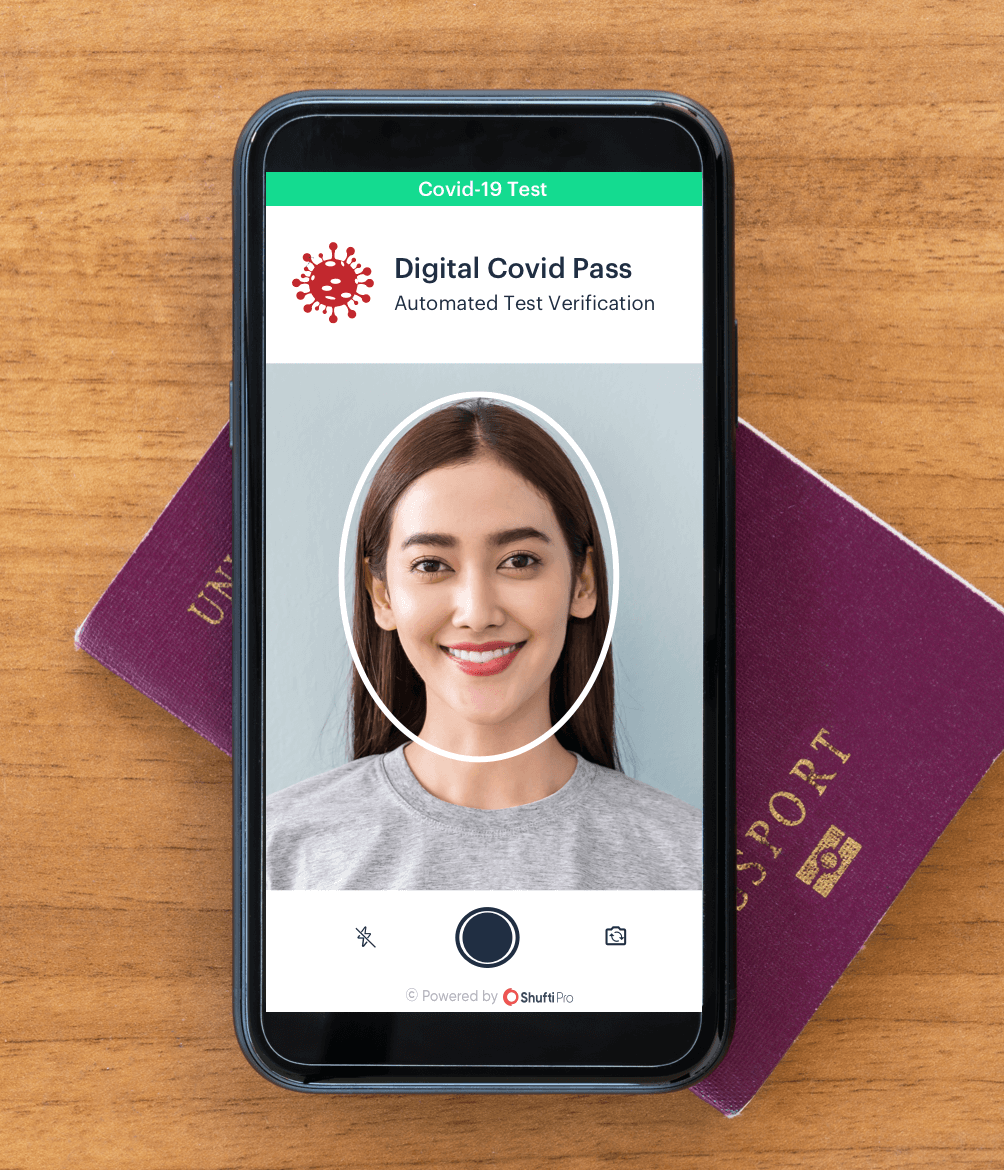 Open COVID Pass in
your browser
Show COVID test to the camera
for auto-capture
Or Would you
Rather Integrate our Service?
If you wish to integrate the solution into your app or security system,
Shufti Pro offers multiple integration options as per your convenience
Integrate API
Quickly authenticate the
passenger's COVID-19 PCR tests
through single API integration of
Digital COVID Pass into your portal
without installing any app or
anything.
Install App
Quickly verify proof of negative
COVID-19 test with Shufti Pro's
Digital COVID Pass app and
streamline passenger onboarding
process.
Touchless Kiosks
Install Shufti touchless kiosks or
integrate our API into your system
to detect fake COVID test reports
and quickly onboard passengers.
Security – Speed – Authenticity
Globally
Compatible
Verify COVID tests in any
country in any language
QR Code
Authentication
Verify the authenticity
of test through QR
code authentication
ID and COVID
Verification in a go
Authenticate the
COVID-19 test and ID
proofs with single API
integration
Data
Security
Shufti Pro is a GDPR
certified company and
practices robust data
security protocols
Digital COVID pass is an intelligent solution which
enables you to verify test results from government
approved laboratories around the globe.
Select your country to see supported labs
*Couldn't find your lab? Contact us to add it right away