BEFORE YOU GO...
Check how Shufti Pro can verify your customers within seconds
Request Demo
No thanks
The travel and tourism industry is among the largest in the world. Many countries, such as the UAE, Switzerland, Sri Lanka, Maldives, etc., rely on income generated by domestic and foreign tourists.
In 2019, the World Travel and Tourism Council reported the travel and hospitality industry to be roughly 10.3% of the global GDP. Although it slashed to 5.3% due to the pandemic in 2020, the numbers are now starting to bounce back. 
Saudi Arabia recently expanded its tourism beyond religious pilgrimage to offer 4-day visit visas with just the purchase of a ticket. Countries know the importance of opening their borders to tourists who inject the economy with fresh cash. Before the COVID-19 pandemic, Europe saw nearly 750 million tourists in 2019.
However, opening borders and allowing the free flow of international tourists isn't without any risk. Implementing KYC protocols is challenging when ensuring people travel globally in a safe environment.
The industry is quite lucrative; with high-value one-off payments, the tourism and hospitality industry is at the target of fraudsters.
Businesses also need to implement strong KYC protocols for a proper risk assessment of travellers and reduce the chances of fraud.
This blog will discuss what it takes for companies to assess risk levels for travellers and its implications in the near future.
Travelling After the Pandemic
While travel patterns were normal before the pandemic, the world has undergone dynamic changes over the last three years.
Fast forward to 2023, travelling isn't what it used to be. Once the world opened up its borders, the costs of travelling and compliance skyrocketed. Airports, aviation authorities, and the hospitality sector will now have to work with the ever-changing rules for stringent compliance.
The travelling and tourism sector has been facing numerous challenges for a long time, one of which is the use of counterfeit documents such as fake passports.
A functioning AI-based KYC and ID verification system can mitigate fraudulent attempts of using someone's stolen identity for human trafficking and other financial crimes.
False Vaccine Reporting
Vaccination has been a controversial subject throughout their very existence. Regarding COVID vaccinations, many countries made it mandatory for travellers to get coronavirus certificates. Unfortunately, this didn't sit well with many international tourists who, in an attempt to bypass the system, relied on falsified vaccine cards.
Determining travellers' health is imperative to reduce the transmission of the virus to others in nearby surroundings. This has led to delays in travel, bookings, and hotel stays, eventually impacting businesses.
As a result, there has been a whopping rate of increase in using forged vaccine cards to bypass the verification system.
What is ISO 31030?
The new ISO 31030 has been implemented from August 2021 to implement the best  industry practices for risk assessment in the travel industry. The new standards provide a robust framework to develop, implement, evaluate, and review travel risk management policy and programme.
Know Your Traveler – Risk Assessment for Hospitality
Implementing robust and strong KYC checks is a surefire way of mitigating against fraudulent attempts by travellers. Background checks of employees and guests in the hospitality sector are equally important.
Applying risk assessment with the option of developing a custom questionnaire can ensure that the business is working with a legitimate customer having no past track records of being listed in any sanctions lists.
Why is Travel Fraud Protection Important?
With more convenience, such as booking for favourite travel resorts, and hotels online, comes the heightened risks of scams. With that being said, TransUnion reported that travel fraud from 2019 to 2021 increased by over 50%. And the numbers from IATA backup this claim. Airlines are deprived of nearly $1 billion annually due to increased number of digital fraud.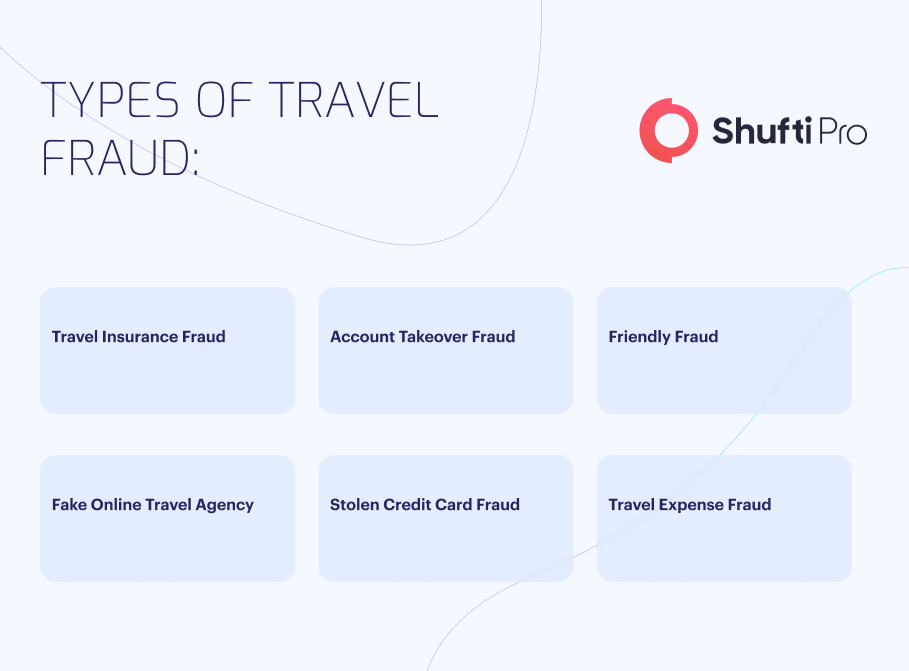 What Are the Different Types of Fraud How To Prevent Them?
Due to its lucrative, one-off nature, travel fraud can lead from using a passenger's identity for drug smuggling to using a stolen credit card and making a friendly fraud.
Here's a weird scenario. In 2021, a passenger from London was found guilty of making a fraudulent claim for £13,000 when he weirdly tried to eat forged documents. Here are the different types of frauds that your business needs to be watchful of:
Travel insurance fraud
Travel insurance fraud is when a passenger tries to claim financial compensation for losses that neither occurred nor fall under the category of it. Here are common scenarios when it happens:
A passenger applies for an insurance claim for apparently lost baggage

Making false claims of missing items

Fabricating injuries for insurance claims, whereas in reality, there have been no injuries
Travel expense fraud
Similarly to insurance fraud, expense fraud is when a company's employee artificially fabricates travel expenses to inflate them for reimbursements. For example, if the cost of travel, accommodation and food were $2,000, it would be inflated to $3,000 or even more. Here are a few types:
Providing inflated receipts

Submitting forged/fake receipts
Stolen credit card fraud
Hackers hack a service through data breaches and card skimming to credit card information and sell on the dark web. One stolen card information can fetch anywhere between $6 to $20 per card. Now multiply that by thousands to get the bigger picture. Unless the cardholder reports it stolen, the card information remains valid for misuse. Hackers often purchase tickets for a confirmed booking at the very last minute, usually when within the last 24 hours. They know that the fraudsters would have already travelled by the time airlines detect a fraud.
Fake Online Travel Agency Fraud
"Beautiful hotel rooms at 70% off. Reserve now or regret."
If something is too good to be true, it definitely is. Using such taglines, fake online travel agencies sell hotel packages that never exist in the first place. This isn't even limited to holiday destinations but also to popular religious trips that pilgrims perform annually.
Bogus agencies sell religious pilgrimage packages worth thousands of dollars, only for the passengers to discover that they have been ripped off.
This is done by cleverly mimicking the look and feel of legitimate apps and websites to gain consumers' trust. Once a handful of money is made, these hackers shut off the platforms to keep their identities hidden.
How Can Businesses Protect Themselves from Travel Fraud?
A one-sentence answer for this would be:
By conducting a thorough risk assessment of travellers and employees.
Here are some steps businesses can take to reduce travel fraud:
Educate employees on the best practices for identifying fraudulent attempts such as fake emails asking for personal details or requesting to click a link and download special software.

Develop a fraud prevention policy using clear KPIs to increase staff awareness.

Use a risk assessment questionnaire to fairly assess your customers' risk levels.

Ensure real-time authorisation is enabled so that the cardholder is asked for a special code to allow an online transaction.
Shufti Pro helps you in unlocking the true potential of travel. From detecting last minute credit card fraud to ID theft, we specialise in mitigating and preventing fraud in a digital-first world.
Scan your travellers and employees against the 1,700+ sanctions list to ensure that only real passengers are onboarded. Reduce the risk of fraud and physical damage to your hotels, restaurants and businesses.