BEFORE YOU GO...
Check how Shufti Pro can verify your customers within seconds
Request Demo
No thanks
Cryptocurrencies have long been viewed as the core of illicit activities by numerous governments worldwide. Where some countries have partially banned crypto tokens, others have enforced an outright veto against trading and owning such digital assets. The crackdown against crypto tokens began around 2017 and 2018 following the bull run of bitcoin (BTC). While those years experienced some of the biggest crypto bans, prohibitions on such tokens continue to surface. With tax authorities and regulators debating on the legality of digital assets, one question remains – how justified is the recent crackdown on cryptocurrencies? 
How do Criminals Use Cryptocurrencies for Fraud?
Four prevalent examples of frauds committed by criminals through crypto tokens include:
Tax evasion

Money laundering

Ponzi schemes

Phishing scams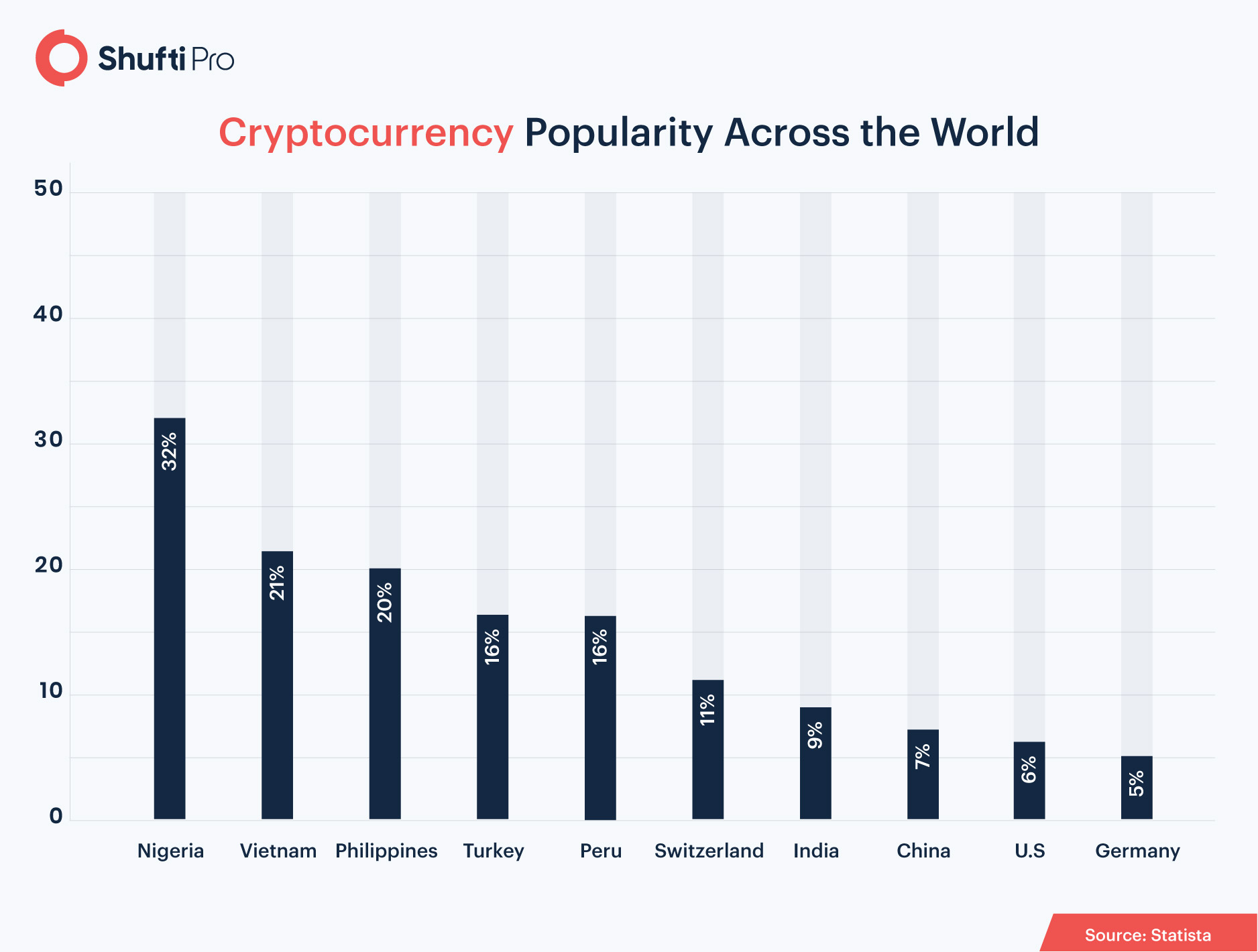 Countries That Say No to Crypto
Crypto tokens leverage features such as anonymity that allows users to perform transactions from anywhere and at any time, without revealing their true identity. This makes it an attractive target for criminals and terrorist organizations, as such digital currencies can be easily used to purchase illegal goods, weapons, drugs, and more. Listed below are some countries that hold a strict stance towards crypto tokens due to the above-mentioned or other key reasons. 
Turkey
In the most recent news, Turkey has enforced a nationwide ban on cryptocurrency transactions and payments due to an inability to recover losses through such investments. Other reasons for the curb include the rising threat of crypto crime, increasing institutional and consumer interest in crypto tokens compared to Lira, and the risks associated with anonymity. Following the ban, bitcoin suffered a drop in value by 4%. The prohibition, however, did not come as a surprise, as the country had been tightening the noose around cryptocurrency regulations in recent months prior to the ban. 
India
Although India has not barred users from trading cryptocurrencies, similar plans are yet under consideration. The Cryptocurrency and Regulation of Official Digital Currency Bill 2021, a draft bill that proposes the ban on private crypto tokens, was proposed to the parliament this spring and is currently under review. 
Prior to this, the Reserve Bank of India (RBI) had banned banks from accepting crypto payments in 2018. However, the ban was overturned in 2020. RBI has now informally requested lenders to cease payments in crypto tokens, as it is believed cryptocurrencies fund illegal activities. 
Nigeria
On 5th February 2021,  the Central Bank of Nigeria (CBN) clamped down on cryptocurrency transactions by issuing a notice that instructed all financial institutions to stop facilitating transactions involving crypto. The order further added that failure to adhere to the directive would lead to severe sanctions against the regulated banks, financial penalties, and suspension of bank accounts.  
Despite this ban on the banking sector, cryptocurrencies continue to boom in Nigeria as users shift towards peer-to-peer transactions or sending payments directly to each other. 
Bolivia
In 2014, the Central Bank of Bolivia banned all decentralized crypto tokens and unregulated currencies from the country. The directive was announced for two main reasons – to protect the national currency and minimize risks for investors. At the time the ban was enforced, Bolivia was the only country to impose an outright ban on crypto across South America. 
Ecuador
Following Bolivia, Ecuador placed a nationwide ban on decentralized cryptocurrencies in 2014 as well. In a vote in the National Assembly, monetary and financial laws were updated that allowed payments using "electronic money" while transactions with unregulated coins were prohibited. 
Nepal
In August 2017, an absolute ban was declared against cryptocurrencies, including bitcoins, by the Nepal Rastra Bank. According to Nepal's Central Investigation Bureau (CIB), seven individuals were arrested following the ban for carrying out illegal bitcoin exchange operations in the country. Krishna Bahadur Mahara, the Finance Minister of Nepal, stated at a 2017-2018 budget speech that to regulate the use of virtual currencies strict monitoring by the Nepalese government would be unavoidable. 
China
While China, the world's largest bitcoin mining country, has not flat-out banned cryptocurrency transactions, the government has been issuing warnings against crypto trading and mining. The country's financial institutions were advised to stop dealing in crypto, and bitcoin transactions have been completely banned. Due to this, miners have begun migrating to other countries, such as the U.S. and Kazakhstan. 
To Ban or Not to Ban? 
The list of countries provided above is not exhaustive as other countries that are speculative about cryptocurrency tokens include Bangladesh, Vietnam, Qatar, Egypt, and South Korea, among others. Some reasons why governments are inclined to crackdown against cryptocurrencies are summarized below.
Environmental Cost
A major reason why experts believe the days of cryptocurrency are numbered is that the environmental cost associated with crypto mining is too high. Take Tesla, for example, whose CEO Elon Musk announced that it would no longer be accepting bitcoin as payment due to rising climate concerns.
"We are concerned about rapidly increasing use of fossil fuels for Bitcoin mining and transactions, especially coal, which has the worst emissions of any fuel," wrote Elon Musk.
Crypto Scams
Scams are not news when it comes to discussing the backlash against cryptocurrency assets. Crypto-based phishing scams for stealing sensitive information, fake "crypto giveaways" to steal user funds, converting fiat currency into crypto tokens for avoiding taxes are just a few examples of how criminals are using such assets to facilitate fraudulent activities. According to the Federal Trade Commission (FTC), cryptocurrency scams rose by 1,000% in the previous year and cost consumers approximately USD 80 million. While restricting crypto mining should theoretically minimize fraudulent activities, bans rarely prove to be a disincentive for criminals. 
Suggested Read: Dirty Funds & Tax Evasion – Can the Crypto Sector Be Safeguarded?
Decentralized Nature
Lastly, it all comes down to the decentralized nature of cryptocurrencies. Without a central governing authority, transactions are left unmonitored, which paves the way for suspicious activities. Where in a public ledger the identity of the end-user can be detected, a decentralized ledger allows the customer to conceal their identity when making transactions. Without an identity verification system in place, criminal activities cannot be traced back to the culprits. Additionally, to place bans on a virtual industry, it must be regulated in the first place. Numerous governments are attempting to submerge cryptocurrency into the financial framework by including them in the definition of a typical financial institution. 
A Simple, Cost-effective Solution
To tackle the issues mentioned above, complying with Anti-Money Laundering (AML) and Know Your Customer (KYC) regulations is a good start. KYC verification not only builds trust between the customers, crypto providers, and regulators but also eliminates fraudulent activities in a single go. On the other hand, ongoing AML screening weeds out money launderers and terrorist groups within seconds, safeguarding the company against reputational and financial damage. With such robust control procedures in place, the crypto industry can undoubtedly remediate its speculative image. 
Need to find out more about KYC and AML for crypto? Talk with our experts!